TD Bank Named Best East Coast Bank By Money Magazine
Banking customers on the East Coast have revealed their preference for TD Bank, as the Cherry Hill, N.J. financial institution was named "Best Regional Bank/East" in Money Magazine's Best Banks of 2011 Ranking.

TD Bank (NYSE: TD) was named best bank on the East Coast by the magazine mostly because of its convenient banking hours. To date, the bank is opened seven days a week and has extended evening hours, Sundays and holidays. The bank also boasts to have a low bar for its checking account products, and was also awarded for its savings account rewards and checking account perks for those aged 60 and over.
Check Out: Money Magazine: Best Banks of 2011
"We could not be more proud to be named Money's Best Regional Bank in the East especially during these challenging economic times," says Bharat Masrani, President and CEO, TD Bank. "Convenience is at the heart of everything we do from being open 7 days, to our live 24/7, 365 day live contact center and extends to our simple, hassle-free product offerings." Overall, here's how the bank says its services compare with other banks on its website: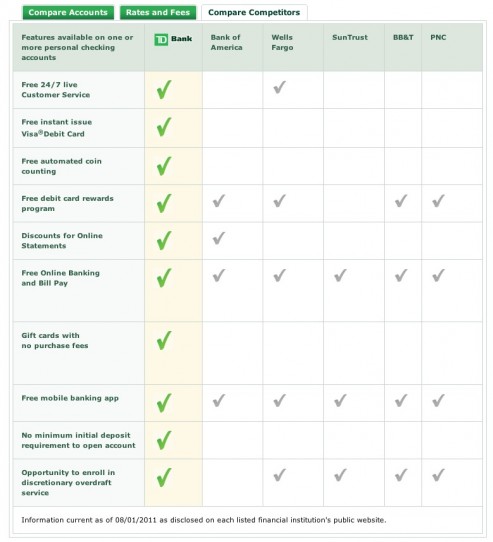 Some of the bank's other checking account products include its TD Convenience Checking, which requires a minimum balance of $100. There's also the TD Student Checking, the TD Simple Checking, the TD Premium Checking and the TD Relationship Checking, which works best for those maintaining higher balances.
Click here for more information about TD Bank's checking products.
MyBankTracker.com Banking Customers' Opinions Diverge From Money Magazine:
TD Bank customers that ranked the bank's services on MyBankTracker.com shared different sentiments when it came to the bank's services. While the bank is financially strong according to our Bank Health Meter, it received a overall rating of just two out of five stars from the 234 banking customers from across the U.S. that reviewed its services on our website.
The ranking categories included customer service, bank rates, online experience, fees and charges and overall customer satisfaction. If you're a TD Bank customer and want to let the world know how you feel about the bank then leave a review on our website.
Other banks to win Money Magazine's honors for other regions of the country included Bank of the West (West) and Huntington (Midwest). Similar to TD Bank, both banks received two out of five stars from the customers that rated their services on MyBankTracker.com.
Ask a Question