Should You Choose a Credit Union or Bank? One Tool Helps You Figure It Out
If you're looking for somewhere to put you money that offers competitive interest rates and won't bleed your wallet with excessive fees then you may want to look into credit unions. At least that's what the Credit Power Index (TM), a joint venture by TheStreet's Rate-Watch and MainStreet, showed.
The index was created to measure the "squeeze" on consumers by determining the difference between the interest rates paid on deposits versus interest rates charged on the loans. This past July the index showed a 5.5 percent spread between credit unions and traditional banks with the former receiving a score of 17.55 for the month of July alone, while the overall index came in at around 22.44. The difference basically means that, on average, those putting their money in credit unions pay less in interest on CDs and other savings accounts than those choosing to place their funds in traditional banks.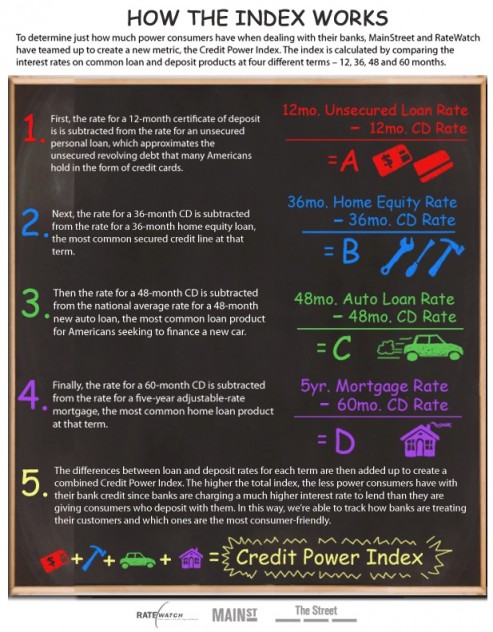 The higher the overall index measured through this metric, the worse banking conditions are for consumers. The highest rate tracked by the Credit Power Index was charted back in 2009, when it peaked at 25.46. While credit unions beat out banks on most loan rates, traditional banks showed an advantage when it came to mortgage rates.
"Interest rates haven't found a bottom yet, but improvements are definitely starting to slow," said Rate-Watch General Manager Rachelle Zorn in a statement. "Anyone looking to borrow money will be able to lock in some very low rates right now."
The Credit Power Index made its debut in late January as a way to quantify just how much power consumers have when dealing with their banks. Through the index, the 12, 36, 48 and 60 month interest rates on common loan and deposit products are compared.
The main difference between credit unions and traditional banks is that credit unions are membership-based and not-for-profit, meaning any profits made by the institutions are paid out as dividends. Similar to how the Federal Insurance Deposit Fund insures the deposits of traditional banks and thrifts up to $250,000, the National Credit Union Administration insures the deposits of credit union up to the same amount.
Click here to see how your particular state ranks on the Credit Power Index. And, if you're thinking of pulling your money out of a traditional bank and putting it in a credit union then follow the link below to learn more about them.
Learn: Credit Unions: What You Should Know
Ask a Question