Movenbank: A Startup to Become a True Mobile Bank
A bank without paper, plastic, or fees is in its early stages of formation – on a path to usher in the next revolution in consumer banking.
Movenbank has its eyes on pushing the physical limits that consumers have been accustomed to through traditional brick-and-mortar banking.
Co-founded by current Chairman Brett King, also the best-selling author of BANK 2.0, Movenbank's vision revolves around mobility, usability, and constant interaction.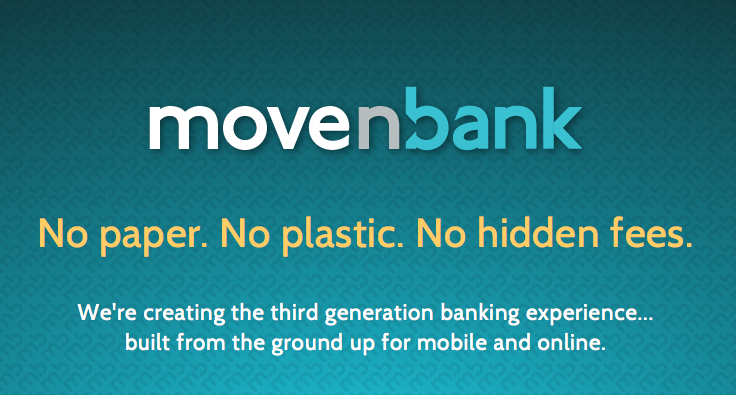 The new mobile banking startup is on a mission to be the first global bank with no paper, no plastic, and no fees. That means no debit cards, credit cards, paper statements, or checks.
Instead, Movenbank is starting from scratch to establish a system that incorporates digital engagement, near field communications technology, and person-to-person capabilities.
"Mobile isn't an add-on for us – it is at our core."
The idea places major emphasis on the user experience and the latest advancements in financial technology. Smartphones would be transformed into more than just a tool to access and view bank accounts. They would inherit the roles as financial tools themselves.
The design aspect is also a focus for Movenbank. The user experience will utilize infographics that veers away from the traditional digital imagery to which current consumers are accustomed. Movenbank plans to "re-invent" credit scores by instituting an "open, social transparent, and viral model" for assessing risk.
One way Movenbank hopes to maintain customer engagement is the use of gamification – often considered a good way to uphold motivation and regular interaction.
Read: Financial Accounts Accessed By 30 Million U.S. Mobile Device Users in Q4 2010
According to its Startuply.com profile: "Movenbank is the complete re-imagining of the banking experience for retail customers. It is a concept that appeals to both the banked and unbanked, but empowers customers in a way that could never be conceived of by a traditional commercial bank. Movenbank creates a new way of engaging customers that will define retail banking for the future to come. It is not an understatement to say that this will change the future of banking…"
Movenbank is currently headquartered in New York City with 8 employees, according to its profile on Startuply.com. A private beta website launch is slate for sometime soon.
A soft launch is expected in July 2012. For updates on Movenbank progress, visit www.movenbank.com.
Ask a Question