Big Banks Offer Financial Relief in Aftermath of Irene
The plethora of inconveniences caused to the northeastern U.S. by the wrath of hurricane-tropical storm Irene leads banks provide some financial relief.
The destruction left in the trail of hurricane-turned-tropical-storm Irene has been devastating to some and minimal to others.
From flooding to heavy winds, the forces of nature may have left a hefty financial burden for the population in the northeastern United States. People may be strapped for cash, have difficulty reaching their banks' ATMs, and face major unexpected costs to repair damaged property and possessions.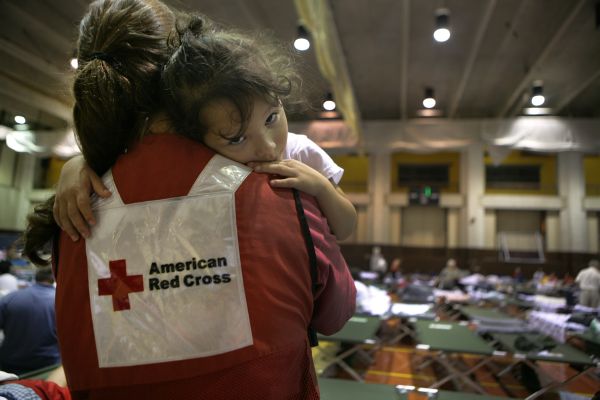 Photo courtesy of Talia Frenkel/American Red Cross
In a time when many of their customers may struggle financially, many banks are offering ways to ease the hardships left by Irene.
Bank of America® is willing to sit down with customers to discuss their financial hardships and take the appropriate actions depending on each individual situation.
Chase has announced to customers in New York, New Jersey, and Connecticut that it will not charge a fee for using a non-Chase ATM, but the ATM owner may still charge a fee. Additionally, Chase will waive overdraft-related fees, late fees on credit cards, business and consumer loans, and early withdrawal penalties on certificates of deposit. These fee waivers apply to these charges occurring through September 4.
Wells Fargo will waive fees incurred when customers in New York, New Jersey, and Connecticut use non-Wells Fargo ATMs (ATM owners may charge a fee). Also, the bank will not charge early withdrawal penalty fees on CDs. These fees will be waived through September 2.
Citibank is open to various financial relief options, such as improving access to cash and waiving fees, to help each affected customer on a case-by-case basis.
Capital One is encouraging customers to contact the bank with any problems involving their banking or credit card arrangements. The bank is ready to provide financial assistance in the form of fee waivers, APR reductions, payments plans, and etc. on a case-by-case basis.
Read: How Much Hurricane Irene Will Cost You
If you've been affected by Irene that may pose a financial challenge, don't hesitate to contact your financial institutions in search of assistance. Many smaller community banks and credit unions may be open to offer similar relief efforts.
Ask a Question