ING Direct to Launch New MONEY Account for Teens
ING Direct will be offering a bank account that allows teenagers to begin establishing financial habits.
ING Direct plans to launch the MONEY account, a bank account with a linked debit card, which is slated to be available some time later this year.
The MONEY account is catered towards teenagers who are starting to learn more about money and financial management. The MONEY account comes with a debit card for free access to 35,000 Allpoint ATMs. Like all other ING Direct accounts, the MONEY account has no minimum balance requirements and no monthly fees.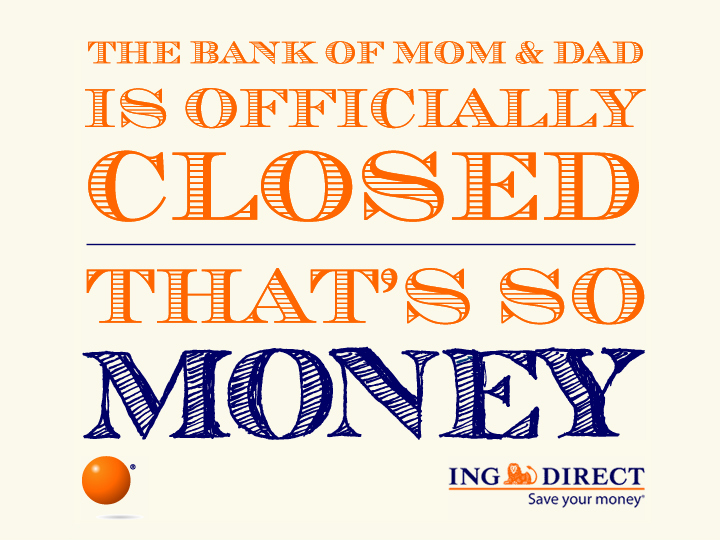 The account is also accessible through ING Direct mobile banking apps for iPhone, Android, and BlackBerry devices, which have become gadgets of obsession for the young generation.
A Checking Account Precursor
ING Direct considers the MONEY account as "a learner's permit for handing money" that signifies a teen's transition to financial independence and responsibility. The account acts as a training wheels before opening a full-fledged checking account that may be available to adult or college student.
Parents and teen child will be able to jointly open a MONEY account with at least $1 in funding from a parent's current ING Direct account – and continue to transfer funds in the future. Teen accountholders would be able to receive direct deposit into their MONEY accounts.
Parents Can Monitor From A Distance
Several measure are available to help control spending. Parents are able to log into the MONEY account (online and through the mobile app) to observe the transactions that have posted. Additionally, parents and teens can set text and email alerts for every purchase, ATM withdrawal, or low balance event. Finally, the MONEY account is limited to $500 per day in debit card or ATM transactions – limits can be temporarily increased with parental permission.
Interest Rates Match Electric Orange Checking
The MONEY account will pay interest equivalent to the rate for Electric Orange Checking for balances less than $50,000, which is 0.25% APY as of 8/29/11. The account can also be linked to ING Direct's popular Orange Savings account or Kids Savings account, which earn 1.00% APY at of 8/29/11.
When the teen turns 18, the MONEY account will see increases in daily transaction limits and the ability to link to external bank accounts. No other changes will affect the account unless the teen opts to switch to an Electric Orange account and/or close the MONEY account.
MONEY On The Way
The MONEY account is currently in its final stages of testing and is expected to be launched within the next two months, according to ING Direct spokespeople.
While MONEY from ING Direct is not currently available for sign-up, parents and teens who are interested can pre-register for the MONEY account for a chance to win $1,000 cash, a MacBook Air, or an iPod Touch.
Furthermore, pre-registered teen customers can submit their photos for a chance to see themselves on a billboard in Times Square, New York City.
The ING Direct Money giveaway is being held from August 23 through September 26.
Ask a Question