Could You Live on Just $1,000 For One Month?
If you were an unemployed single parent without a job and down to your last $1,000, do you think you could get through one month on your own? One virtual game called Spent can help you figure it out.
Spent, an online game created by Urban Ministries of Durham and Durham, N.C.-based advertising agency McKinney, can help you figure out pretty quickly if you have what it takes to weather some pretty dire financial circumstances. The game was created to give financially sound individuals the opportunity to walk in the shoes of someone on the verge of homelessness.
The ultimate aim of Spent is to challenge our conventional beliefs about poverty—namely, the assumption that it's something that couldn't happen to us. If you're unaware of how serious a problem poverty and homelessness in the United States is then figures available from the U.S. Census Bureau may give you a rude awakening. The bureau recorded that the poverty rate in 2009 swelled to 14.3 percent from 13.2 percent the previous year , which at the time was the highest rate seen since 1994.
The bureau also reported that 43.6 million Americans were in poverty during 2009, which is largest number recorded in the 51 years its published poverty statistics. A family lives in poverty if its total income is less than a defined poverty threshold that takes into account inflation. As of 2010, a family of three earning less than $17,057 annually before taxes and excluding capital gains or noncash benefits like Medicaid was considered to be living below the poverty threshold.
Both shortages of affordable rental housing and an increase in poverty have augmented the U.S. homeless rate over the past 20 to 25 years according to the National Coalition for the Homeless. The latter cause was primarily attributed to eroding work opportunities and a decline in public assistance initiatives over the years.
Spent: A Virtual Lesson In Poverty:
Spent begins fairly simply: you begin as an unemployed single parent who's lost their job and have nothing but $1,000 in the bank. Your goal is to make it through a month of both expected and unexpected expenses without running out of cash in the process. Here's how my first five days turned out:
Day One: My first task was to find a job, and the game gave me three options to choose from: restaurant server ($2.13/hour plus tips), a warehouse worker or temp (the latter two earn $9/hour). I decided to go work as a warehouse worker. Here's what the game said I could expect to earn on a weekly basis: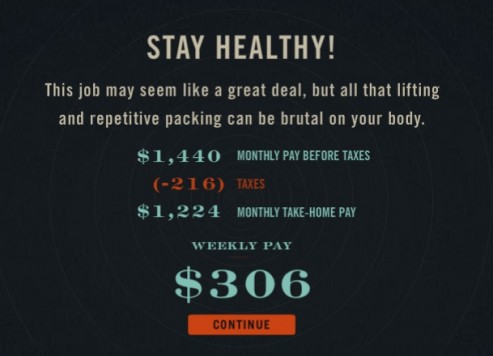 Day Two: Next, I'm asked to decide whether or not I'd like to opt in for health insurance. Given the nature of my job and the amount of physical exertion that would be required on a daily basis, I decided opting in would probably be worth it in the long run. That choice reduces my weekly paycheck by almost $70, but it's an expense I'm willing to eat.
Day Three: Now, I have to decide on a place to live. I can either pay more and live closer to work, or pay less to commute as far as 100 miles round trip everyday. I probably would have chosen to live as close to my warehouse job as possible (at a cost of $855 per month) if it weren't for the fact that I have a kid to raise. So, I decide to live about 20 miles away from work, which will cost me around $817 a month in rent.
While I'm saving money on housing, my gas prices will be a completely different story. According to the game, for every dollar a working family saves on housing they can expect to spend an additional 77 cents on transportation.
Day Four: Now that I've gotten housing and insurance expenses out of the way for the month, I'm left with just $184 in the bank and it hasn't even been a week yet. Adding insult to injury, I come to find out I own too much stuff to fit into my apartment. I can either rent a storage unit for $45; ask a friend for help; or, have a yard sale. This is where the game actually allows you to tap your Facebook network for financial assistance. The point of this is to simulate the much-humbling process of asking for help–something that, regardless of how much you have, can be difficult to do.
Because I was able to get a friend to store some of my possessions, I didn't have to spend money and still had $184 in the bank by the next day. Success!
Day Five: Today turns into one of those days I should've stayed in bed (though, given my financial circumstances, skipping work won't be wise). While dropping off Junior at school, something blows in my car. I can either fix it, which will cost me $300; or, I can again ask a friend for help.
Asking my friend for help was difficult to do the first time, but with just $184 I decide I have no choice. My friend picks me and my child up, and I pay for gas. I end the day with $179.
Day Six and Beyond:
During the next 25 days of my life I get paid three times and an forced to make a number of very difficult financial decisions. At one point in the game I must decide between going to my kid's recital or earning an extra $50 bucks. At another point, I must decide whether or not to give my child the $10 sent to them as a birthday gift. Yet another difficult choice I must make is whether or not to see a doctor when experience crippling chest pains.
In the end, I made it through the end of the month with just $2 in my pocket. While that may seem like something of an accomplishment, it also helped highlight the sort of emotionally trying decisions those in poverty must make on a daily basis. At the end you can choose to make a donation to UMD or explore ways to get involved.
Click here to find out how you'd manage on $1,000 for one month. And, watch the video below for more information.
Carolyn Okomo is a finance writer and the Tuesday columnist for MyBankTracker.com. You can follow her tweets @CarolynMBT.
Ask a Question