Is Walmart Check Cashing a Good Deal for Low Income Earners?
Walmart, the retail giant, is making forays into commercial banking. Is it possible that it could provide better service to low-income people than a big bank?
The discount retailing giant has expanded their banking operations recently, opening 1,800 MoneyCenters nationwide offering services ranging from check cashing, money transfers, and credit and debit cards. This is a cause for concern from a regulatory standpoint, but it might also fill in a much-needed gap for those underserved by traditional banks.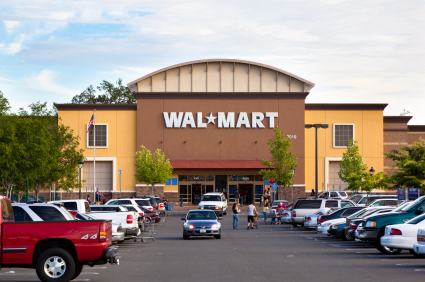 Unlike the seedy check cashing operations that take a percentage off the top of every check brought through the door, and pay in cash, Walmart charges a flat fee for government and payroll checks: $3 for anything below $1,000, and $6 for anything above $1,000, up to $5,000. Walmart doesn't cash checks for more than $5,000, or personal checks of any sort.
Walmart will even issue you a Walmart MoneyCard, their prepaid debit card, and put your cash on there if you want, free of charge.
For people who have a steady income, but not enough to meet a national bank's balance minimums for free checking, Walmart MoneyCenters might make great sense.
For instance, Bank of America's full-service MyAccess Checking account charges a $12 fee every month, unless the customer uses direct deposit or maintains an average balance of $1,500. A similar Wells Fargo product, the Value Checking Account, charges a $5 monthly fee, which is only waved if the customer uses direct deposit or keeps an average balance of $1,500.
If you're paid on a biweekly basis, and your paychecks are under $1,000, you would only pay $6 a month to have Walmart cash your checks and put them on a free debit card. Assuming you couldn't maintain the minimum at BofA or Wells Fargo, that's a great deal: there is no risk of incurring other fees with Walmart, unlike most commercial banks.
Compared to check cashing places like MoneyGram, which in New York State can charge a maximum of 1.83% of the face value of the check, it's also a great deal. While MoneyGram and Western Union both offer prepaid debit cards, just like Walmart, charging by percentage can add up to much higher fees than Walmart charges; cashing a $900 paycheck costs about $16 at their rates.
As massive and grotesque a corporation as Walmart may be in many ways, this is a meaningful step in the right direction towards providing banking services for the underserved. No, they don't offer a savings account, and won't help lower-income people build their wealth, but at least they aren't nickel-and-diming them.
Ask a Question