Obama's Job Speech Doomed From The Start
Very few are optimistic about President Obama's upcoming job speech Thursday night, for justifiable reasons. Not a single job was created in August, his popularity ratings have sunk dangerously low and politicians are opposing his plans even before they're announced.
Obviously Obama's main hurdle is our crippled economy, particularly the unchanging unemployment rate, which is stuck at the terribly high 9.1 percent. Tomorrow night will be a big test for Obama, as he needs to come up with game-changing job creation ideas when he addresses a joint session of Congress. The American working (and unemployed) public isn't looking for more praise nor do they want to hear about bipartisan disagreements.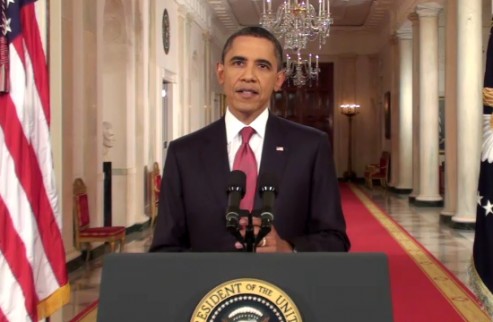 America is almost ready to appoint its new leader.
Does Obama really want voters to be left with a bad taste in their mouth time and again when thinking about how he handled job creation? After all he'll be heading into the new election in just 14 months.
Catch up: Obama Plans to Fix Unemployment
High numbers will not make him feel any better. Although some were even surprised he garnered this much support, only 43 percent of people surveyed in a Washington Post/ABC opinion poll approved of the president's job performance. A Politico/G.W. University poll agreed with those stats offering a 45 percent rating of their own, a seven percent drop since May.
In the waves of reviews after his speech this Thursday, we will see how the public feels about his ideas. If he doesn't come up with bold new plans, the people will continue to turn on him.
And it will get nastier.
Senate Minority Leader Mitch McConnell offered some pretty harsh rebuke to Obama's forthcoming jobs plan — yesterday.
Before Obama even attempted to introduce his plans, the Republican was quick to point to prior shortcomings such as "a Stimulus bill aimed at creating jobs was followed by a period where we lost 1.7 million jobs."
He was also vocally upset about Washington's swelling wallets while the rest of the country suffers.
"As Washington has grown bigger and bigger, Americans have continued to lose jobs, the national debt has exploded out of sight, and for the first time in our history, America's once-pristine credit rating has been downgraded by a major ratings agency."
He shot down almost everything the President has attempted to do, no matter how well-intentioned he was. In face of this and similar criticism, Obama is heading into a veritable gauntlet on Thursday night.
It's Obama's best bet to come as prepared as possible.
Ask a Question