Fifth Third Bank University Program Turns Campus ID Into Debit Card
Card technology continues to improve as Fifth Third is able to incorporate debit card functionality into campus IDs.
Fifth Third Bank (NASDAQ: FITB) has partnered with Cedarville University to offer the cedarville1card to students.
Initially, the cedarville1card acts as a normal campus ID card for Cedarville University students. It provides access to campus events and facilities, meal plans, local discounts, and more.
If a student has any Fifth Third checking account, the cedarville1card can be linked to that account by speaking to representative on campus or a banker at a branch. After doing so, the cedarville1card will be enhanced with the ability to make PIN-based debit card transaction and ATM withdrawals.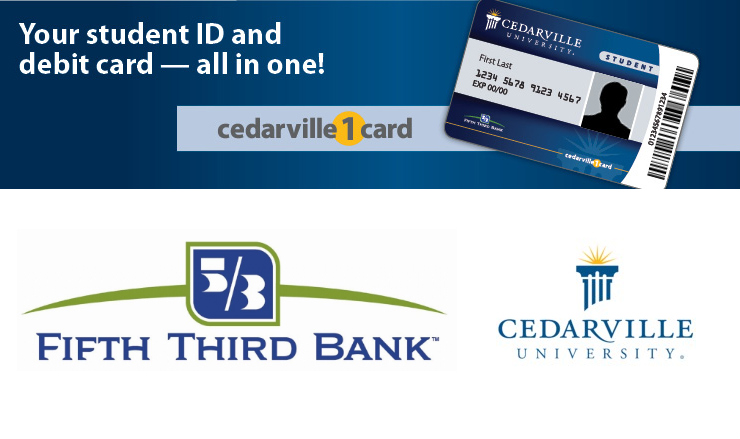 Usage of the cedarville1card for debit/ATM card transactions are subject to the same terms as with the original debit card of the corresponding Fifth Third checking account. If students would normally incur a fee for using a non-Fifth Third Bank ATM, the same would apply for the cedarville1card.
The cedarville1card is proprietary to Fifth Third Bank so it cannot be connected to a checking account at any other bank.
The campus account and Fifth Third checking account is not tied together – funds are independent of one another, except both accounts can be accessed with the same card.
The program offers an incentive for students to open Fifth Third Student Checking accounts, which have no monthly account fee or minimum balance requirements. The student checking account also offers five free non-Fifth Third ATM transaction each month and one free income wire transfer per month.
Located in Cedarville, Ohio, Cedarville University is home to 3,200 students who have access to two Fifth Third ATMs on campus.
Fifth Third Bank plans to roll out the program to more schools in the future, says Jon Groch, senior vice president and director of Bankcard services, to the Dayton Business Journal.
This new card program comes soon after Fifth Third Bank introduced the Duo Card, a combined credit and debit card.
Ask a Question