Businesses Track Customer Base with Salesforce for QuickBooks
Small businesses can always rely on Intuit to come up with a gratifying new product. Salesforce for QuickBooks helps you make your business more attractive to potential customers and close more deals.
Intuit Inc. (Nasdaq: INTU) has been working to release this product ever since they formed an alliance with salesforce.com earlier this year. Salesforce is a leader in customer relationship management and put a special focus on ensuring that your sales, marketing, and management efforts are all working toward a common goal. By combining with QuickBooks, small businesses can more easily manage all aspects of customer relationships.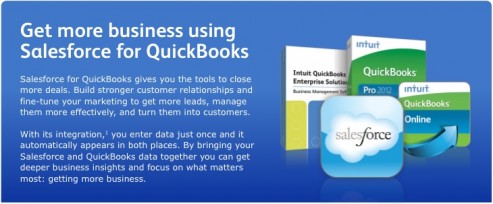 The point of the product is to combine the financial and marketing aspects of customer accounts.
This will almost eliminate any double data entry because the product automatically creates a transaction in QuickBooks when a deal is closed in Salesforce.
"By integrating these best in class products, millions of small businesses can now seamlessly connect their front office and back office, sharing relevant information across the business," said Dan Wernikoff, senior vice president and general manager of Intuit's Financial Management Solutions division.
Increased Transparency
The product provides small businesses a big picture view of customers by allowing businesses to:
Get a 360-degree view of customers with both current deals as well as realtime financial information
Combine sales and marketing forces, with the ability to track successful leads across multiple channels
Eliminate the time and effort of processing by automatically syncing data
Hone in on a customer's needs by tracking all interactions they have had with the customer
Salesforce for QuickBooks gives businesses the ability to follow and develop leads from multiple sources including social media campaigns. The product provides dashboard reports to measure performance with insight into all interactions a customer has had with the company.
This includes a history of what the customer has bought, the products that interest them, and other claims or issues they have.
Pricing and Availability
Salesforce for QuickBooks is available in a standard Group Edition and a more expensive Professional Edition. Now you can get it for the promotional price of $18 (regularly $28) per user, per month for the Group Edition and $60 (regularly $70) per user, per month for the Professional Edition.
If you already have both products, simply subscribe to the Salesforce Integration for QuickBooks application. It costs $20 per company, per month for Group Edition and $40 per company, per month for Professional Edition.
Ask a Question