AmEx Mobile App Updated With Rewards Redemption
A welcome feature arrives on American Express mobile apps – picking your rewards on-the-go.
American Express (NYSE: AXP) released a new update last week that will allow cardmembers to redeem their Membership Rewards directly from their iPhones and Android smartphone devices.
After logging into the American Express mobile app, users have the option to redeem Membership Rewards points directly through the phone.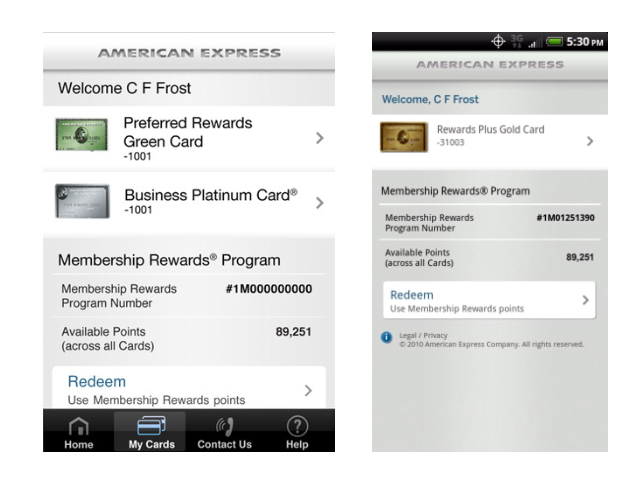 "Rewards redemption is a nice new feature," says Gabe, an American Express card customer, in a review on the app on the Android Market.
Previously, cardmembers had to use their smartphone web browser to visit www.membershiprewards.com, which an version of the rewards website that is optimized for mobile devices.
Card issuers have caught on in the buzz that customers want to be able to redeem rewards on through their smartphones apps – making the mobile banking experience more and more like the online banking experience without having to use a mobile browser. And, the mobile rewards site only allowed for redemption of gift cards, excluding options such as travel, shopping, dining & entertainment, and charity donations.
Discover has recently updated its mobile apps for in-app rewards redemption of cash back for electronic gift codes, statement credit, or direct deposit.
Citibank also released its ThankYou Rewards app in collaboration with Best Buy. The app allowed customers to scan items at the store and pay on the spot with accumulated points. It also allowed for points redemption through delivery and in-store pickup.
The Membership Rewards points redemption experience on the American Express app functions similar to the website.
Only cardmembers who are enrolled the Membership Rewards program can redeem points.
American Express has been making headway in the technology department with new offerings such as location-based check-in deals with Foursquare and eco-friendly virtual gift cards.
According to the American Express app page in the Apple App Store, more features are on the way.
Ask a Question