SunTrust Bank Website Makeover Coming Soon
The SunTrust website will be getting a modern makeover with a cleaner look and upgraded functionality.
SunTrust Bank (NYSE: STI) is nearing the launch of its redesigned website that is due to be much more aesthetically pleasing compared to the current seemingly outdated look.
"New site enhancements enable us to better serve our clients with features that make it quicker and easier for them to get the information and tools they need," says a SunTrust spokeswoman.
Here is the current design: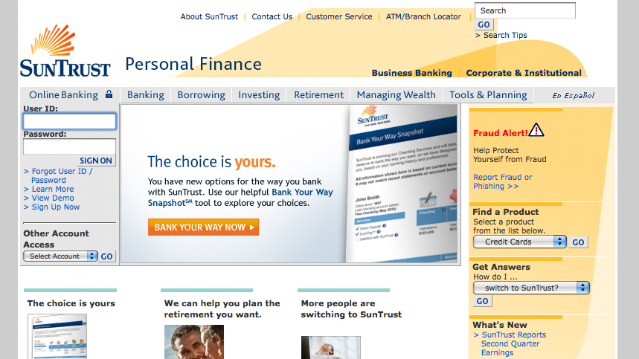 This is the new design: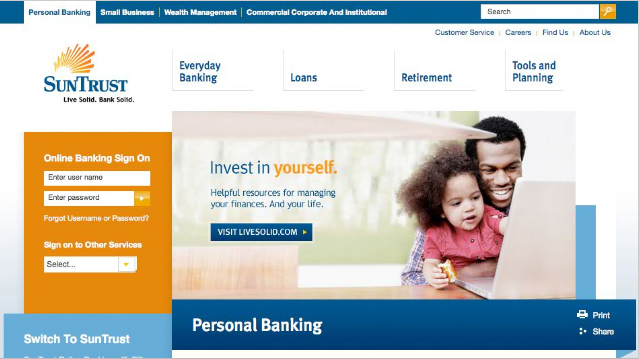 At first glance, regular visitors to the SunTrust site will notice a drastic reduction in the amount of simple text and links "above the fold" (before users have to scroll down the page). Also, the new design uses increased space separation between text and links that makes it easier on the eye to find information.
A new navigation bar is introduced with four main sections including personal banking, small business, wealth management, and commercial corporate and institutional.
SunTrust has placed a greater focus on driving visitors to Live Solid, the bank's network of resources that cover financial management with featured content, educational information and charges, and simple financial tools.
There will be improved search functionality for better access to the right information in addition to a consolidated contact page for quicker access to the most appropriate contact.
No further official changes to the website are scheduled as the majority of site improvements have been completed. But as with all websites, more changes can be rolled out as needed.
The newly designed SunTrust Bank website is scheduled to launch this month, according to the SunTrust spokeswoman.
To check out the video demo and learn more about the new SunTrust Bank site redesign, click here.
Ask a Question