Banks Step Up Efforts To Provide Financial Education Resources Across the Nation
The need for Americans to take charge of their personal finances has given rise to a number of bank-lead initiatives aimed at providing consumers with the tools needed to make more informed financial decisions.
If you're a individual that's looking for somewhere to turn for financial advice then there may be no better time than now to turn to your financial institution for help.
Banks across the nation have begun to spearhead initiatives with the aim of helping Americans from all walks of life make better informed financial decisions. Best of all, many of these financial education initiatives are offered for free, and gear their respective campaigns towards specific demographics such as college-bound teenagers or older adults.
If you're looking for ways to better manage your personal finances, then here are banks that have gotten involved in financial education discourse this year to help American consumers take charge of their finances.
Capital One Steps Up Financial Education Efforts in Nation's Capitol:
Just last week Capital One Bank (NYSE: COF) and Consumer Action—both of whom partnered to create the MoneyWi$e financial literacy initiative—announced plans to provide a free education training seminar for community-based groups in the Greater Washington, D.C. area.
The seminars will include discussions in the areas of budgeting and saving, money management, understanding and rebuilding credit and basic banking skills. Both companies also offer an interactive tool called eLearning, which provides tools in both English and Spanish that include tip sheets, financial calculators, and financial case studies on numerous money topics.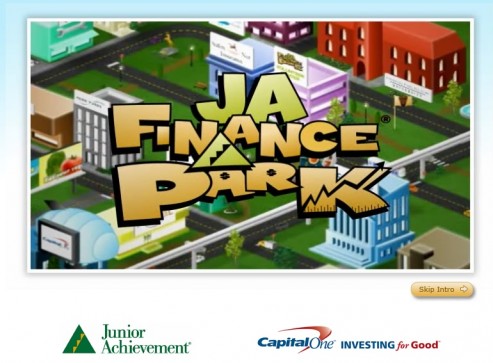 As we've also written about, Capital One also partners with an organization called Junior Achievement to promote financial literacy awareness for teens. This past August both companies created an interactive game called JA Finance Park Virtual that allows players to simulate making the type of financial decisions common as an adult. The game is a spinoff of similar non-virtual programs both companies run across the nation, and was created because of the popularity online video games already enjoy amongst younger consumers.
Read more: Capital One and Junior Achievement's Financial Education Game Goes Virtual
Bank of America® Partners With National Council of the Aging to Offer Older Savers Advice:
The Bank of America® (NYSE:BAC) Charitable Foundation and the National Counsel on Aging have also teamed up to provide older Americans with useful tools to help them become better savers.
According to a statement announcing the new initiative, called Savvy Saving Seniors, more than 13 million Americans live on less than $22,000 per year. The added pressure of dealing with costs such as rising housing and health care bills, diminished savings and job loss further contributes to the financial burden faced by older Americans. The toolkits provided through the initiative include sample budgets, a spending diary, checklists and links to other online resources. In addition, the kit also provides instructions for professionals interested in facilitating workshops with older clients.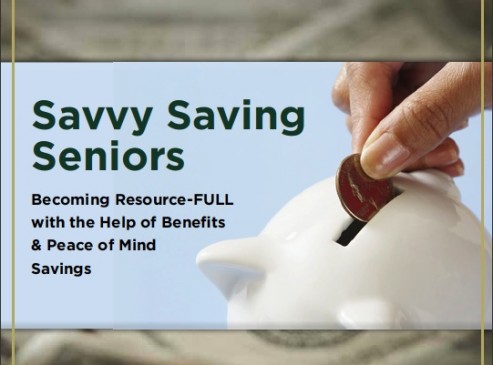 If the program is something you're interested in then you can sign up online for a free webinar on September 16th, which offers advice on how to use the toolkit.
For those unfamiliar with the Bank of America® Charitable is part of Bank of America®'s 10-year goal to donate $2 billion to nonprofit organizations across the country, and gave more than $200 million last year alone. The National Council on Aging is a nonprofit organization based in Washington, D.C. that advocates for the creation of solutions to improve the lives of older Americans. Click here to find out more about the organization.
Ally Financial Launches Courses Around the Nation:
As we've written before, Ally Financial also made the decision to be launch a new financial literacy initiative called Ally Wallet Wise Program, which offers both online and in-person financial literacy workshops around the country. The program, a spinoff of GMAC's SmartEdge program, is available to both Ally and non-Ally customers. Since the program debuted, its grown to include on-site courses in the states of Colorado, Illinois, Kansas, Georgia, Michigan, North Carolina, Texas and Wisconsin.
The courses are taught by a network of non-profit and financial literacy organizations located throughout the United States and, similar to the online program, is free of charge for those who participate.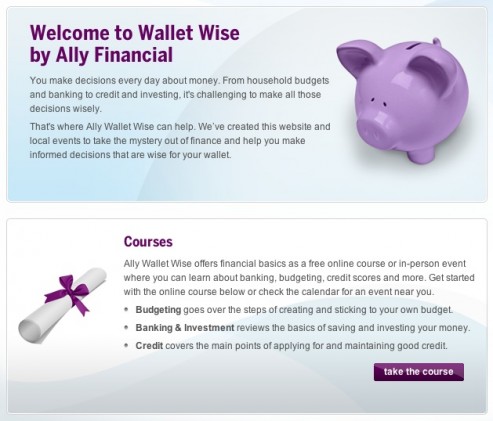 Read more: Ally Financial's Ally Wallet Wise Program Helps Consumers Make Sense of Their Finances
The program consists of three lesson: Budgeting, Banking & Investing and Credit. At the end of each chapter the reader is then presented with a quiz to make sure they've been paying attention to the lessons they've been taught. If you're interested in learning more about the program then visit Ally's website for more information.
Carolyn Okomo is a personal finance writer and the Tuesday columnist for MyBankTracker.com. You can follow her tweets @CarolynMBT.
Ask a Question