Older Customers Prefer Online Banking Over Branches
Bank customers of ages 55 and up are saying that they prefer to perform their banking on the Internet rather than in traditional branches.
The rising popularity of online banking is creating a monumental shift in the banking habits for older generations.
In 2011, 58% of customers ages 55 and older said they preferred Internet banking compared to the 24% of preferred branch banking, according to a recent study by the American Bankers Association.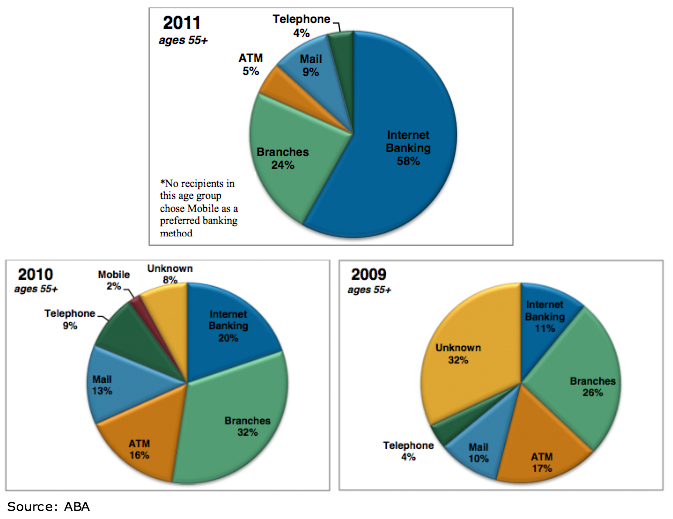 In last year's survey, only 20% of that age group said they preferred online banking while 32% said they preferred branch banking and 16% preferred ATM banking.
Meanwhile, respondents of ages 18 through 54 have preferred online banking over branch banking since 2009, according to the ABA's previous versions of the study.
"These survey results hammer home the point that retail banking has changed for good," said Nessa Feddis, ABA senior counsel and retail banking expert, in a press release.
"They tell us for the first time that customers of all age groups prefer the speed and convenience of conducting their banking transactions on the Internet to visiting their local branch or ATM. They also tell us that customers trust the accuracy and security of online banking," Feddis added.
Also, given the regulatory environment, many banks have created the financial incentive for customers to bank online.
For example, banks will charge a fee for every time they send out a paper statement to customers. To check stay on top of account balances, customers would have to access their accounts on the Internet. After getting a taste of the online banking experience, older customers may be more likely to adopt the technology over in-person visits to branches and ATMs.
For all ages groups, the study showed that 62% of respondents preferred online banking, followed by banking through: branches (20%), ATMs (8%), mail (6%), telephone (3%), and mobile (1%).
Ask a Question