PNC Launches Virtual Wallet Android App With Mobile Deposit
PNC's goal to offer a full-featured Virtual Wallet app for the Android platform by October is going according to plan.
PNC Bank (NYSE: PNC) has launched the Virtual Wallet mobile app for Android smartphones with the popular mobile check deposit feature.
In early July, a post on a members-only blog by Michael Ley, vice president of e-Business at PNC, revealed that the Virtual Wallet Android app was to be released any time in September or October. PNC has kept to its schedule with a relatively early launch.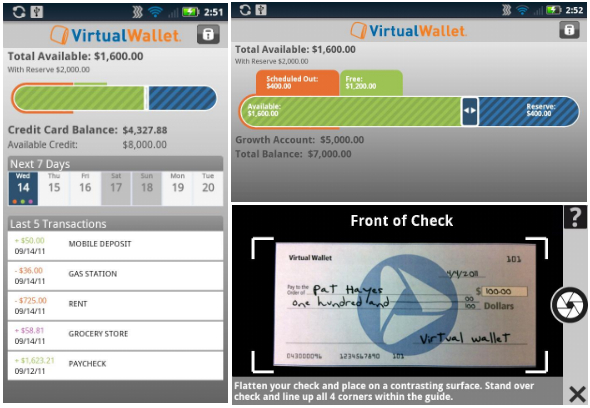 The functions and capabilities of the Virtual Wallet Android app is identical to that of the iPhone version, which was first launched in August 2009.
The Android app will launch with key features such as the calendar, money bar, credit card integration, and mobile check deposit, which allows users to deposit checks through the smartphone's camera.
The Virtual Wallet app is now available for download through the Android Market and the minimum required Android operating system is Android 2.1.
So far, the app has already received generally positive reviews with many users glad to see the app's arrival.
One Android reviewer, Alex, writes: "The Virtual Wallet app finally brings all the great features of the website to Android. This app also allows for mobile check deposit. It's great."
Virtual Wallet Popularity
Catered to younger generations, PNC's popular Virtual Wallet account brings a fresh approach to financial management with multiple accounts designated for different purposes. With a shift of a slider, customers can move funds to and from these accounts. Transactions are integrated with a calendar to track spending and cash flow.
Virtual Wallet accounts are opened by more than 600 new customers per week and they are responsible for 50% of account originations, said James Rohr, chairman and CEO of PNC, during the Barclays Capital Global Financial Services conference earlier this week.
Ask a Question