Citibank Improves ThankYou Rewards Program For Checking Customers
A new ThankYou Rewards program coming in December will mean a drastic boost in points earnings for Citibank checking customers.
Citibank (NYSE: C) checking accountholders may rejoice at the news a major improvement that is coming to the ThankYou Rewards program despite rising monthly account fees and more stringent fee waiver requirements.
The Old ThankYou Rewards
The current ThankYou Rewards program allows checking account customers to earn points based on the number qualifying linked products and account activities.

For customers with Basic Checking, there isn't much to rave about as the maximum number of points they can earn per month is 50. A typical customer who receives a direct deposit, makes a debit card purchase, and makes an online bill payment will only get 25 ThankYou points.
To put that into context, a $50 cash reward can be redeemed with 8,000 ThankYou points. At 25 points per month, customers will get the equivalent of $0.16 per month and it will take 320 months to redeem the $50 cash reward.
But, a welcome change will make an enormous difference.
The New ThankYou Rewards
The new ThankYou Rewards program offers much more points but it will require more steps to acquire.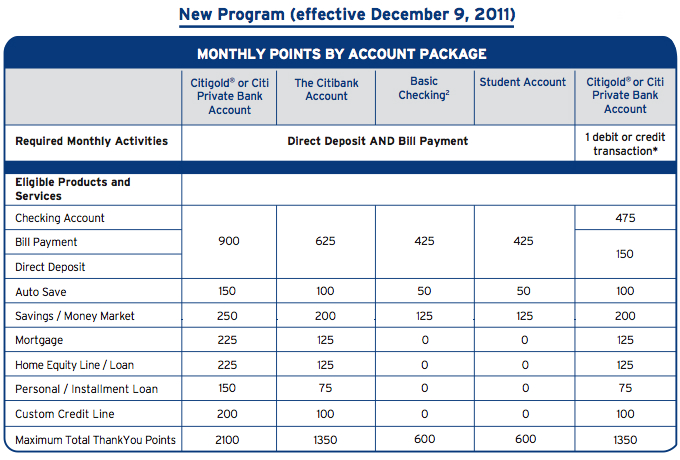 Simply by posting a direct deposit and one bill payment per month, a Basic Checking customer will earn 425 points right off the bat (both direct deposit and bill payment are requirement to earn points).
At this rate, Basic Checking customer gets the equivalent of $2.66 per month and it'll take 19 months to get the $50 cash reward. Add on a savings account with automated transfers and it becomes $3.75 per month with 14 months to reach payout.
"While many banks are eliminating rewards programs, we are keeping ours and even making it more rewarding for customers who use us as their primary bank," said Stephen Troutner, Head of Banking Products for U.S. Consumer Banking, in the announcement.
According to a Citibank chat representative, all checking customer will not be earning any points until the new ThankYou Rewards program begins on December 9.
Rewards Programs Take New Paths
Other banks have cut their debit card rewards programs because they cannot be sustained once the Durbin Amendment takes effect on October 1. The rules will reduce the revenue banks earned on debit card interchange fees.
Wells Fargo, Chase, and SunTrust bank are among the biggest players that have taken this step.
However, a new trend has risen – merchant-funded debit card rewards programs. These are offers by specific retailers based on spending habits.
Ally Bank's Perks program will offer cash back when you use a debit card to make a specific purchase at a retailer (i.e. get $5 cash back when you spend $25 at Walmart).
Chase recently revived its Ultimate Rewards debit card program that offers a rewards program where debit card customers only earn points at certain retailers (i.e. earn 2 points per $1 spent at Pathmark).
But, Citibank's approach aims to exclude its rewards from debit card usage while driving deeper customer relationships.
Ask a Question