LA Artist Sets Banks on Fire, on his Canvas
A Los Angeles artist ruffled feather recently by making plein-air oil paintings of bank branches ablaze.
Alex Schaefer, a 41-year old artist drew attention from local law enforcement for a new series of paintings that depict Los Angeles area banks painted in pleasant somewhat impressionistic fashion, except for one thing: they're up in flames.
The Los Angeles Times reports that Schaefer paints his paintings like any good landscape painter: en plein air.
He stands across the street from his subjects, and paints them, imaginary flames and all. In late July of this year, Schaefer was even stopped and questioned by uniformed LAPD officers, who took down his information. Plainclothes detectives followed up with him at his home a few weeks later. Schaefer told the Times that the police even asked if he was a terrorist, planning on following through with the imagery in his oil paintings.
He told them no.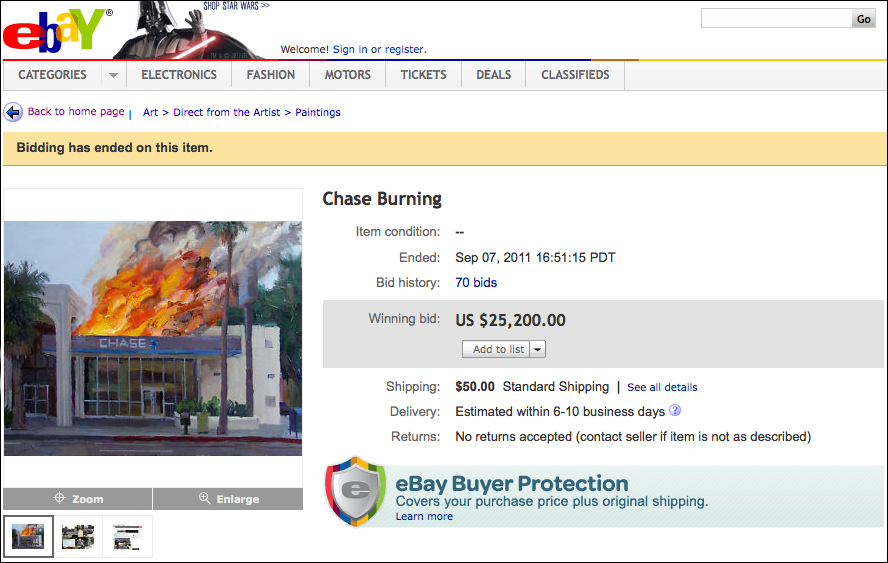 LAPD is not the only party interested. Schaefer put a few of these paintings on eBay's fine art listings, and sold a painting of a burning Chase branch for more than $25,000. He also auctioned off a much smaller painting of a Bank of America® branch, set on fire, which sold for $3,600. Intriguingly, both the collectors live outside of the United States — the Chase buyer is German, the BofA buyer, British.
According to the Times, Schaefer's burning bank paintings will be part of a show at Los Angeles' Beacon Arts Building, called "Disaster Capitalism." The paintings, Schaefer told the Times, are metaphors for the damage that banks inflicted on the economy. This time, however, the banks are the victims.
The popularity of Schaefer's paintings, not to mention the story itself, speaks to just how dissatisfied Americans (and Brits and Germans) are with our large commercial banks. Though little evil likely comes out of a large bank's branches — mostly just tellers and a couple loan officers — they are the most accessible appendages of the massive banking corporations that helped get us where we are currently. It makes sense Schaefer directs his psychic rage at the most convenient target, and it makes sense that we might love it.
But where will Schaefer put all this money that he's making off of his art? Would it not be awkward if he banked with Chase? Turns out, Schaefer is consistent: he banks with a "small community bank."
Ask a Question