Banks Step In To Meet the Financial Challenges of Millennials
Millennials have a very specific set of needs when comes to managing their personal finances than other generations. And, banks are beginning to step in to find ways to lend a hand.
Millennials–those born between the years 1980 and 1992–are poised to become the largest generational group in the United States and place second only to the 70-77 million individuals that compose the Baby Boomer generation. Yet, millennials face a financial challenges their older counterparts don't. Many are entering the job market at time when unemployment rate rests at 9.1 percent, while others face challenges such as student loan debt and the likelihood of not having health insurance, even if employed.
Baby Boomers also enjoy an annual spending power of $2 trillion–more than double what millennials have by many estimates. When you consider this, it becomes clearer that younger consumers have very unique financial problems that call for unique solutions. Fortunately for millennials, they have time on their side. They also have the support of some financial institutions, which are stepping in to meet their challenges.
Discover Financial Teaches Millennials About Debit Cards:
If you're a young person looking for debit card advice, then definitely consider taking advantage of a new website called DebitSavvy.org, which was launched earlier this month by Pulse—a Discover Financial Services subsidiary. As our site has mentioned before, the aim of Debitsavvy.org is to help its readers live what's called a "DebitSavvy" lifestyle: meaning they have access to their cash when you need it. And, when you consider that millennials use debit cards more frequently than any other age group to make payments, some free advice on how to get the most of the plastic couldn't have come at a better time.
In addition to the information about recent regulations affecting the debit card industry such as swipe fee regulation such as the Durbin Amendment, DebitSavvy.org also features a community to allow young debit card users to share advice and information about their debit card usage.

American Express Helps Millennials Get a Job:
Millennials have are now being called the boomerang generation—meaning that they tend to move home after college and rely heavily on the financial support of their parents to get them through rough economic conditions. More than two thirds of recent college graduates receive financial assistance from their parents, according to American Express, which recently launched a new program with LearnVest to provide free online tools for twenty-somethings to better prepare millennials for gainful employment in today's rough job market and guide them towards financial independence.
The program is a 10-day online financial bootcamp that covers topics like career development, networking and salary negotiation skills and the like to help millennials make the right job choices. In addition, American Express also launched a new service called Crowdtrap, which is a social networking community that allows consumers to earn points for participating by sharing their own ideas and views on about financial and career development topics.
American Express's survey showed that most recent graduates don't know what they are worth, and earn some $10,000 less than they should, even given today's difficult economic conditions. Arming yourself with the information needed to make informed decisions about your financial future is one of the first step toward becoming a financially independent.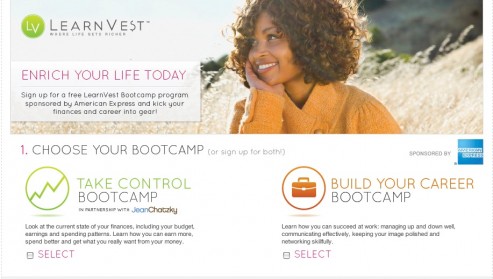 A Note to Banks: Technology Key To Restoring Financial Confidence in Millennials:
The financial crisis left a bad taste in the mouths of most Americans in their overall view of the financial services industry—and for milliennials that's no different. In 2008, Microsoft released a study showing that more millennials were losing trust in their banks, and that 22 percent of them wouldn't open a checking account. Another study showed that 40 percent of millennials feel uncomfortable investing in the stock market, which is understandable considering that $2 trillion was lost in the stock market during the height of the financial crisis.
To regain the trust of younger banking customers, banks are going to have to learn to speak their language. Millennials are the most technologically-savvy age demographic to date, which means that banks should attempt to reach out to these types of consumers via digital channels.
Banks can increase their revenues by 5 to 10 percent simply by reaching out to millennials, which should provide more than enough incentive for these financial institutions to modernize. Continuing to develop personal finance management tools, videos and virtual communities will continue to be the best way for banks to turn millennials in financially independent consumers.
Carolyn Okomo is a personal finance writer and the Tuesday columnist for MyBankTracker.com. You can follow her tweets @CarolynMBT.
Ask a Question