Capital One Offers Free FarmVille Gifts and More
Banks used to offer toasters for opening a checking account in person. On that model, Capital One sweetened the deal by offering an updated version of these free gifts — as long as you interact with them in a Zynga game.
It seems Capital One (NYSE: COF) has run out of things to buy in the real world so they have been forced to expand in the virtual world. Capital One is continuing its foray into the online gaming experience, as it has been integrated into three Zynga games Monday. This will offer potentially 131.5 million monthly users of FarmVille, CityVille, and The Pioneer Trail to take advantage of the free gifts, all thanks to Capital One Bank.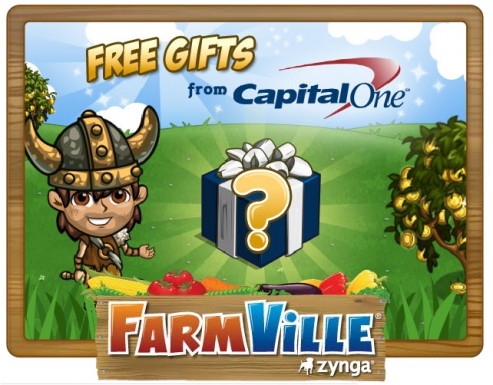 This is great news for those who play the game, unless they have had bad experiences with the potentially fifth-largest bank in the country. Each game offers different perks for players who utilize the bank's presence.
The Capital One Free Gifts
In CityVille, players can place a Capital One bank in their metropolis to gain energy and experience points.
It would be weird for FarmVille players to place a bank on their farm, so they will be allowed to visit the "Capital One FarmVille Farm" to get the limited-edition, sunglass-wearing Capital One goat. They can also pick up some Animal Instant Grow while they're in the neighborhood.
Finally, the bespectacled Capital One goat can also be found in Pioneer Trail, but here players participate in quests with the animal. The goat may remain as a permanent in-game item.
As of September 2011, about one third, or 275 million, of all Facebook users play the games. Capital One isn't missing out on this pool of potential cash, so they connected their in-game promotions to real life, sort of. Each one directs players to Capital One's Facebook page to learn more about exclusive virtual Zynga items and, of course, actual Capital One products.
Let us know in the comments section below if you've integrated Capital One into your virtual world.
Ask a Question