Google Wallet Launches, but hold on to your Wallet
Okay everybody get excited, or nervous, Google Wallet has officially launched. This week Google officially released their mobile payment platform for Sprint Nexus S users, but don't be quick to throw away your wallet, adoption will take time.
What is Google Wallet: An Introduction into Mobile Payment Plans.
We all know what Google (NYSE: GOOG) is, but when murmurs of the Google Wallet and the concept of a mobile wallet application compatible on the Nexus S 4G first started in May, Google once again introduced another layer to their empire.
When the company announced their plans to partner with Sprint to bring near field communication pay options to the US, it was their impressive reputation that interested large brands including Macy's, Subway and American Eagle Outfitters to participate. This gave the tech-giant a competitive edge over similar start-ups such as Square.
Google Wallet is their second entry in to finance focused products, with Google Advisor, a product comparison engine which launched earlier this year.
How Google Wallet Works & Can I Use It?
For those who can't quite grasp how this new wave technology works, it's pretty simple. Using the same action found is chip credit cards, all you need to is tap the phone on approved paypass readers.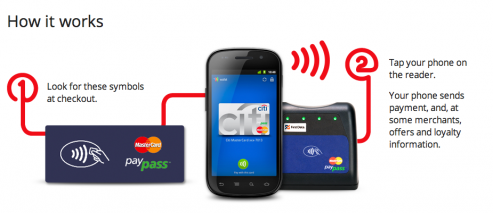 Though Google Wallet is designed for phones with near field communication, those who think they can start using Google Wallet, may be in for a surprise. If you want to use Google Wallet right now you have to have a Nexus S with Sprint. Those who have an Nexus S with AT&T or soon Verizon will have to wait till later this year.
Currently, the tool is only available for Citi MasterCards and Google's Pre-paid credit card but this will soon change as Google expands. Already the company is working on adding Visa, Discover and American Express cards who has been active in the mobile / social space with their partnerships with Foursquare and Facebook.
Why You Shouldn't Toss Your Wallet.
Beyond Google Wallet currently only being available with one wireless carrier and mobile phone, the biggest reason why you need to hold on to those plastic cards jammed into your wallet is the fact that is will take time for retailers to adopt this new payment platform. As we mentioned earlier, the service is now available at various retailers, including CVS, Jack in the Box and American Eagle Outfitters, but what they seem to low ball is that the services is only available at select locations.
The Nilson Report, a trade publication covering the credit card market, was quoted in saying "It takes several years for a major U.S. retailer to decide to do something different at point of sale…Even if they decided they wanted it today, it would still take two years." David Robertson believes it will be up to five years before NFC technology will be fully adopted.
Ask a Question