Why You Should Know About Segmint
FinovateFall 2011 has kicked off with an exciting start. Among the first few presenters, startup Segmint has particularly stood out to us. Ultimately a tool for Financial Institution, we think that the benefits will trickle down to the consumer.
Whether you love it, hate it, use it or don't; social networking is here to stay. Traditionally, sites like Facebook and Twitter were reserved for eager teenagers wanting to share every little detail of their lives, but there was another group seeing the advantages of publicly sharing thoughts and emotions: marketers.
What is Segmint?
Segmint is basically a tool marketed to financial institutions to help better connect to their customers through building digital relationship. Segmint tracks something called Key Lifestyle Indicators coined by the company as KLIs. They are even able to break KLIs into 'activity-based' and 'event-based'.
Building digital financial relationships. – Segmint
If financial institutions better connect to their customers through the digital space, they can provide in depth financial solutions.
Activity-Based KLIs: For banks to learn their customer's activity based off transactions involving activities they are involved in such as sports, hobbies and interests.
Event-Based KLIs: These transactions show banks which stage their customers are in life such as graduation, getting married and so on.
By tracking this information, financial institutions can better gauge where you are in life, where you should allocate your funds and how to balance your budget.
SegmintSocial: Just launched at FinovateFall 2011, SegmintSocial is a tool that highly customizes Facebook interactions for financial institutions. So if you go to your banks Facebook page with a question, they can better answer it by pulling in your KLIs. Here is an example of what a consumer would see: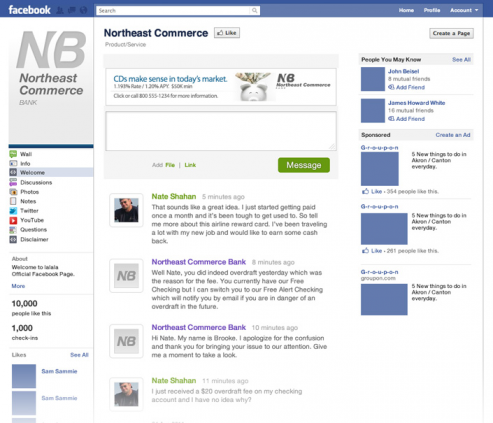 Credit Unions Continue To Lead in Customer Service
One of the largest things lost with all these new innovations is quality customer service. With mobile banking, online banks and all the other features rolled out many customers are losing the face-to-face interactions that help banks answer questions and build customer loyality.
Segmint offers to connect it's customers (financial institutions) with their customers (you, the consumer). According to John Relyea, Sales & Marketing, the young company has only seen major interest from credit unions, showing that the alternative banking institutions are continuing to search for ways to put them at the forefront of quality service.
Although many big banks are eagerly searching for ways to get more money out of the customers, maybe they should take a page out of credit unions' book and work towards building consumer relationships.
Ask a Question