BillGuard: Fraud Security on Your Online Bank Statements
The transactional fraud detection service from BillGuard can now show up right beside your online statements.
For the busy American, it is not uncommon to have pages full of transactions posted to their bank accounts. Not every single one is reviewed and fraudulent transaction can (and do) occur from time to time.
What's worse is that financial institutions don't detect such transactions that can pass as being legitimate – think of those magazine subscription scams.
The problem is addressed by BillGuard, called the "antivirus for bills". And, at FinovateFall 2011, the company unveiled its browser extension that will add a section to online bank statements showing the user's BillGuard status.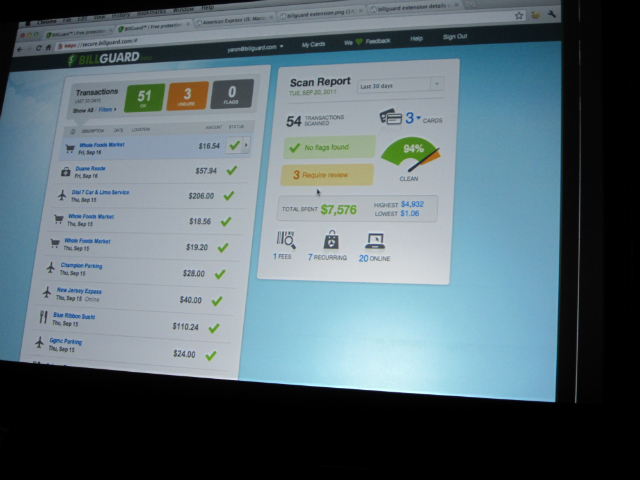 Bank customers must be BillGuard users who will be able to download the extension for their accounts. Also, financial institutions themselves may choose to integrate BillGuard into their electronic statements, said Justin Bonar, vice president of Business Development & Sales at BillGuard.
So, bank customers don't have to log into their BillGuard accounts to review security of their bills.
BillGuard Continues to Shine
BillGuard launched with a positive reception during TechCrunch Disrupt, a semi-annual tech conference, in May 2011.
The free service lets consumers link debit cards and credit cards to BillGuard, where all transaction activity is scanned for fraud or questionable charges. It crowd-sources its users by issuing alerts that the users have flagged as fraud.
Hidden charges, billing errors, scams and fraudulent transactions are the common types of activity that is caught by BillGuard. "This is not a social network. We are a security company," said BillGuard co-founder and CEO Yaron Samid during the Finovate presentation.
In the three months following its launch, BillGuard has caught suspicious charges on 20% of user accounts, which saved users $350,000, Samid added.
To see how BillGuard works, check out the video below:
Ask a Question