CashStar: Redeeming Credit Card Points On-The-Go
Future updates to your mobile banking app is very likely to include a mobile points redemption solution from CashStar.
If you've had a rewards credit card, you may have had redeem your points in the following manner: 1) look for a gift card at retailers you like, 2) purchase a gift card with accumulated points, 3) wait for the gift card to reach your mailbox, and 4) plan you shopping trip to use the gift card.
For many card customers, this is the norm and there hasn't been much innovation in this arena. However, the next frontier for mobile banking apps and rewards redemption is starting to come into view.
During FinovateFall 2011, a financial and banking technology conference, CashStar introduced its MobileGiftRewards iPhone/iPad application, which lets consumers "burn" their earned credit card rewards points at the point of sale.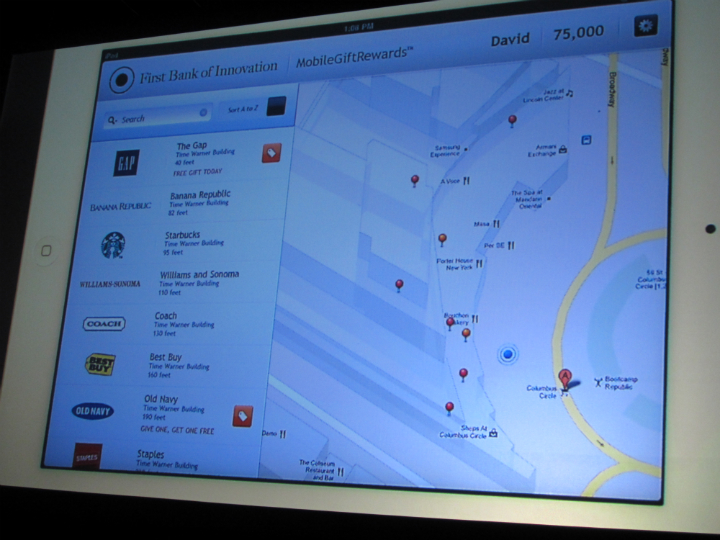 With the app, you can find out if a participating retailer is the local area or set up location-based alerts. When you have decided to make a purchase, you can redeem your rewards points for a mobile gift card on the spot through the app. Then, a bar code appears on the mobile device, which can be scanned at checkout.
No mobile wallet is involved. No near field communications (NFC) hardware is necessary.
There are currently 250 retailers that have partnered with CashStar and JPMorgan Chase is piloting the company's innovation, said CashStar co-founder and CEO David Douglas Stone.
The Chase GiftShelf app for the iPhone allows Chase cardmembers to redeem their Ultimate Rewards points as described above. Big-name participating merchants include Pottery Barn, Home Depot, Gap, and Starbucks.
Stone could not share details of current discussions with other card issuers.
"With CashStar, consumers can burn their points instantly on their mobile device for the first time ever, providing the ultimate convenience and relevancy the digital age now affords," Stone said during the conference.
Ask a Question