KeyBank Revamps Debit Rewards Program, Offers Customers More Ways to Earn Points
KeyBank has joined a bevy of other large banks in revamping its debit rewards program in response to fee reducing Durbin Amendment, which is poised to take effect this coming October.
KeyCorp (NYSE: KEY), the 24th largest bank holding company in the United States by assets, today announced its plans to introduce a new debit rewards program called KeyBank Relationship Rewards, which aims to reward customers who strengthen their banking relationships.
Through the program, which officially kicked in this past Sunday, KeyBank customers can earn points by paying bills online, making deposits at an ATM or setting up a direct deposit. And, beginning December 9, customers will also be able to earn points with the bank by opening new savings or lending accounts. Personal banking customers can also earn birthday bonus points of up to 500 annually beginning this December.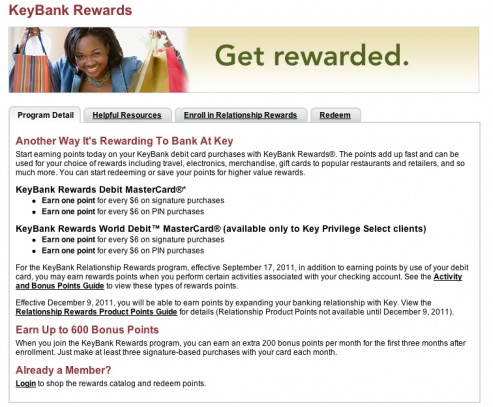 The new program won't entirely do away with KeyBank's traditional point accrual model, which simply involves using their debit cards for everyday purchases. Customers can earn one point for every $6 they spend using their debit cards—regardless of whether it's a PIN-based or signature-based purchase. And, those that make at least three signature-based purchases each month can earn an extra 200 in bonus points each month for up to three months.
KeyBank said it made the decision to revamp its debit rewards program to help offset the effects of federal regulations that will limit the amount of swipe fees large banks can charge merchants accepting debit cards. The rule, included in the Dodd-Frank Wall Street Reform and Consumer Protection Act signed into law last year, will reduce interchange fees to 21 cents per transaction from 44 cents.
In anticipation of the rule kicking in this fall, banks across the country have responded by either ending or altering their free checking and debit rewards programs, as many have argued such programs are funded exclusively through the swipe fees they collect. One of the first largest U.S. banks to end its debit rewards program in response to the Durbin Amendment was Chase, which officially ended new enrollments into its debit rewards program back in July.
Banks Choose to Revamp Debit Rewards Programs To Beat Durbin:
KeyBank joins a handful of other financial institutions that have made the decision to alter their debit rewards programs rather than ending such programs altogether. UMB Financial Corporation (NASDAQ:UMBF) ended its free checking account option this past February and replaced it with checking option that allows customers to accrue points based on the the type of transaction that post to their checking accounts rather than the amount spent.
"The rewards program's key differentiator is that it accumulates points based on transactions—or activity on the account—rather than dollars spent" UMB's Vice President and Consumer Deposit Product Manager Spencer Kaullen in an email. "Additionally, the redemption benefit is incredibly competitive with other programs, and UMB will continue to evaluate opportunities for program enhancements."
Susquehanna Bank (NASDAQ:SUSQ) also ended its debit rewards program this past July, and has plans to replace it with a new program that encourages customers to expand their banking relationship. BBVA Compass Bank made the decision to transition its traditional debit rewards program in to a merchant-funded rewards program that allows banking customers to earn deals from participating merchants in addition to accruing them per card transaction amount.
The Durbin Amendment, which exclusively applies to banks with assets of $10 billion or less, will officially kick in this October 1. An original proposal that would have reduced swipe fees to 12 cents per debit card transaction was expected to reduce the revenues generated by non-exempt banks by as much as $16 billion per year.
Ask a Question