SunTrust Relaunches Mobile Apps With Better Design
Having recognized that its mobile banking apps were lacking in the visual department, SunTrust Bank releases new apps.
Aesthetics and functionality are playing an increasingly important role for mobile banking users as seen by the criticism for SunTrust's apps for iPhone and Android devices.
Over the weekend, SunTrust (NYSE: STI) launched a new mobile banking app, not an update to its former one. The new app is called "SunTrust Mobile App", which will replace its first mobile app called "SunTrust Mobile Banking".
What is the biggest difference between the two? Simply the design. Take a look at the change below: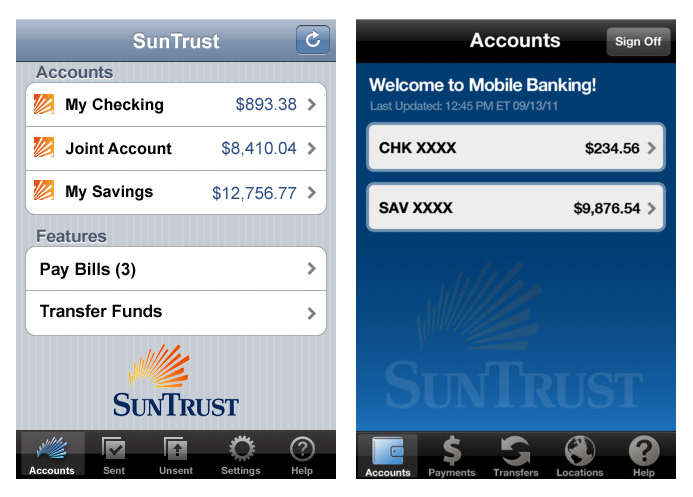 The first SunTrust mobile app sported a rather generic look, which utilized various shades of the grayscale.
On the iPhone, the feel of the app resembled the experience of navigating the phone's settings interface. However, the apps could be considered adequate for basic banking needs.
The new SunTrust apps have been infused with color, which immediately gives off a more vibrant mobile experience. The font has also changed to differentiate the app from the native font used throughout the phone.
Currently, nothing major as changed in terms of functionality. Customers can view their SunTrust accounts, transaction activity, pay bills, and transfer funds. The most notable functionality change is the addition of the in-app ATM/branch locator.
"Great app! SunTrust really improved their app vs. the previous version," one user wrote in an App Store review of the new SunTrust Mobile app.
Keeping Appearance in Mind
The visual overhaul comes at the same time as SunTrust's website makeover, to which a SunTrust spokeswoman says, "New site enhancements enable us to better serve our clients with features that make it quicker and easier for them to get the information and tools they need."
The new website design proved to be a significant improvement to a "younger" look and user experience. Like the website, no new capabilities were introduced with the redesign of SunTrust's mobile apps.
Ask a Question