Online Money Management for Healthcare, But Is It Necessary?
Get ready for a new wave of must-have financial management tools. Cake Health and Simplee plan to make managing your health insurance a simple online task.
We all listen to the tech-buzz. Ever since Mint.com was founded in 2006 and subsequently sold two years later to Intuit, startups have been trying to follow in founder Aaron Patzer's footsteps to come up with the best new personal finance tools, whether its managing your bills, rewards, credit cards, tuition — or healthcare.
Last week at their conference Disrupt in San Francisco, TechCrunch likened Cake Health to Mint for health insurance, a metaphor that's becoming increasingly common for a site with a sleek design and easy-to-use feel to it.
It's also becoming a goal to strive for.
While Cake Health has TechCrunch behind them, some true diehards point to the fact that Simplee.com really entered the space first.
A Narrow Competition
But the point is not who got there first or which has better ratings at a tech conference. With security and old habits as their biggest obstacles, the real question is which company can convert the skeptics (and even the enthusiasts) into users?
Honestly, I don't think either one is pushing ahead. When you visit the sites, almost identical welcome screens greet you with screen shots, a quote from a user "just like you," a cool logo to go with their catchy name, and a Youtube video of how to use it and how it helps (probably also made by identical, competing companies).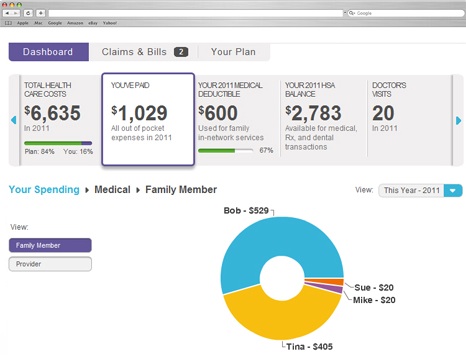 Even their slogans can barely be differentiated:
Cake Health: The best free way to manage your healthcare expenses.
Simplee: The simple way to track and pay your medical bills.
I'm still struggling to find out which will work "best for my lifestyle."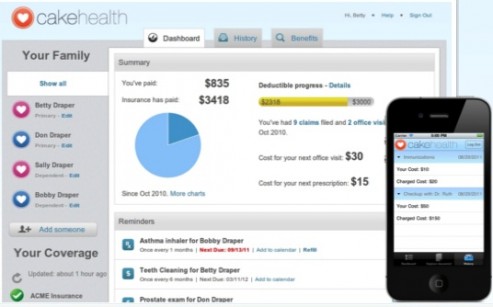 I've also set up an account at both sites, in which I followed the same steps to get almost the same features and benefits from each. Then I got two "Welcome to ____" emails, and I am now officially in control of my medical bills. Or healthcare expenses.
Tracking Features Prove to Be Beneficial
But just because they're both very similar doesn't mean they don't work. With the sites, I can link up my health insurance provider to achieve complete transparency over my account.
I can track the multitude of letters in the mail from my insurance company in one simple dashboard, as well as how much I'm paying in monthly payments and out of pocket, showing my total medical spending and my deductible status. I'll even receive alerts when bills are due or a free checkup is expiring.
They also both have the ability to suggest new plans based on how much you're currently paying for insurance (kind of like BillShrink) based on frequency of visits and services you require.
When signing into my respective accounts I did get a drastically different feel from each site. If the goal is to mimic Mint, then Cake Health wins. Its glossy finish and easy to read design feels more like it than Simplee's bookish thoroughness.
However, both companies will adequately track this very private and personal information, offering you a user-friendly experience in this normally complicated and fragmented industry.
Are These Tools Over Saturating the Market?
But this new competition makes a much larger statement on the amount of tech startups trying to make a name for themselves. The space for personal financial management is suddenly becoming supersaturated, at one time imposing on you the need to see all your bills in one place and then later trying to single out one particular industry from the group.
How many of these services will we have before all our information is so widely spread across the Internet that we don't even remember what we're signed up for anymore? Won't our piles of catalogues and bills in the mail just turn into heaps of emails, newsletters and special offers?
In time, more companies will step into this glutted space and some will ultimately be forced out of it. I wonder which of these two is destined to survive.
What's your experience with either of these sites or the PFM space in general? Tell us in the comments section below.
Ask a Question