KeyBank Rolls Out Revamped Bill Pay Website
If you're a customer of Keybank then you can now look forward new service enhancements that the bank recently rolled out this week.
KeyBank (NYSE:KEY) on Wednesday announced plans to revamp its online bill payments service to make the experience more manageable for the bank's customers. The new features, which officially went live on Monday, Sept. 26, will allow customers to send their payments faster, avoid late fees on those payments and at the same time manage online bill payments more efficiently.
According to a statement announcing the new service, the new online bill pay website will allow customers to control who they pay, how much they pay and when they pay from a single screen. With more than half of KeyBank customers using the bank's online bill pay services to manage their accounts through their mobile phones, the move will definitely enhance the bill payment experience for the company's banking customers.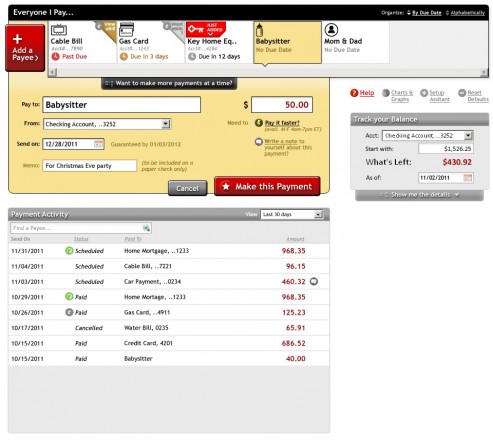 Managing Your Bills in One Place Just Got Easier:
Included in the bank's roster of online bill pay improvements is eBills, which allows banking customers to manage the bills of major payees in one shot rather than having to visit multiple sites or remember multiple passwords to pay bills. Another new feature included in the new website design is an expedited payments option, which can guarantee the payment of bills within one business day so that customers can avoid late fees.
In addition to eBills and the expedited payment option, payees also have the option of viewing all their payees in one list called "bill rack"; can schedule multiple payments or one at a time with a single click; and, can also manage their bills more effectively and view up-to-the minute balance information. Customers can also review up to 24 months of payment history, assess how future payments will affect their balances and create memos for certain payments.
KeyBank Revamps Banking Services:
The website update is just one of several major changes KeyBank has made to its online banking services this past month. Its holding company KeyCorp—the 24th largest in the United States—announced plans earlier this month to revamp its debit rewards program, which it said at the time was a move attributable to interchange fee cap rules that will kick in this October and reduce the amount of these fees banks with $10 billion or more in assets can charge banks that accept debit cards.
The program, called KeyBank Relationship Rewards, offers customers the opportunity to earn rewards by strengthening their relationship with the bank in addition to using their debit cards. While many of the main features of the program were launched on Sept. 21, many other features are also expected to kick in on Dec. 9.
Ask a Question