Renting Textbooks and Selling Half-Price Pizza
I am accustomed to seeing daily deal offers in my inbox from multiple sites since I'm signed up for so many. Yesterday, I got one I did not sign up for — and was very surprised when I saw Chegg was the sender.
Ever since Groupon practically invented the daily deals space, so many companies have gotten involved. Google Offers, Facebook, LivingSocial, Travelzoo, even Foursquare; the list really goes on and on. There are multiple competing apps to track all the daily deal coupons you buy, and marketplaces to sell ones that are expiring.
But why did textbook rental company Chegg, which some liken to 'Netflix for textbooks', get involved?
Chegg's Good at What it Does
Anyone I know who has used Chegg, myself included, has had a generally good experience. The savings are huge and customer service is very friendly and accommodating. Plus, you won't have to keep the newest edition of an Anthropology textbook that you'll never use again. Most would rather rent for cheaper than buy on Amazon with the task of selling it later.
Now usually when I get a Chegg email I barely even look at it since it's usually just another newsletter. But when I saw the familiar "Buy $10 for $20 worth of…" format of a daily deals email I had to see if it was true.
With the hiring of Elizabeth Harz, now head of business development, Chegg announced in May that it would begin offering daily deals specifically geared to college students what she referred to as "an under-served part of the market." Great. I'm glad someone finally took it upon themselves to cater to college students.
On that note, I'm a bit confused as to how they will be doing this. What do college students like that isn't already offered by daily deals sites?
Adventure? Just got a Groupon yesterday for skydiving and bungee jumping. Recreation? Already bought my full-day fishing trip from Travelzoo for half the original price. Food? Please.
Deals for College Students
So what is it — what is their description of specially catered deals for the college student demographic?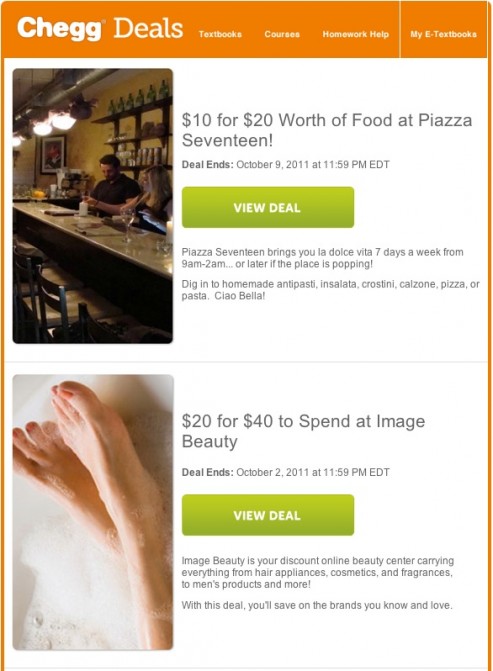 That's right. Food and beauty products, as if you can't just Google that and come up with hundreds of results near and far from multiple sites.
With the launch and execution of this new daily deals, I think the space has finally become supersaturated. Just because a site has a large user base of satisfied customers doesn't mean they have to start offering daily deals. Despite reassurance that Chegg's daily deals will be different than others, the picture above says it all. It even looks the same as other offers.
And the problem is not that they are expanding. Chegg has actually launched some cool new programs that are sure to attract interest from college students, like the "Textbooks & Tickets Tour," which gives free concert tickets to students.
Add to Textbook Rentals
Instead of offering daily deal emails and a little tab on the top, why not throw in a free daily deal at checkout with rental of X amount of books (or dollars)? Alternatively, give access to the deals only after you have rented to make it feel a little more exclusive.
I guarantee that students do not need more daily deals flooding their inboxes. Truth is I rarely purchase daily deals from the email anyway, preferring instead to get them from the site when I'm thinking about it.
Ask a Question