AmEx: Average Folk Spending More on Luxury Goods
A new report by American Express Business Insights reveals an interesting trend. Contrary to what you might expect, average consumers are spending more on luxury fashion goods than usual, while "traditional high-end shoppers" are taking a break from spending on Louis and Gucci.
The report, 2011 Spend Sights Special Report: Global Luxury Fashion Spending, was released on Monday by American Express' research wing, Business Insights. The report compares spending on luxury fashion — both full-price and discount, as well as online and in-store — between the first half of this year, and the same time period in 2010.
Average Consumers Become More Fashion Forward
This may come as a surprise to some, given the state of the economy, that "average" consumers are spending more on high-end fashion than before. High-end fashion is pure status symbol (unlike, say, increased spending on other big-ticket items like cars, or homes, or even eating out) which makes this report still more curious. But, according to AmEx, this is the case.
The report identifies a group of "fashion enthusiasts" as the small group of people who "make up the top 5% of spend on apparel & accessories." This group of consumers spent less in the first half of this year than they did in the first half of 2010, while "average consumers" increased their spending by significant amount.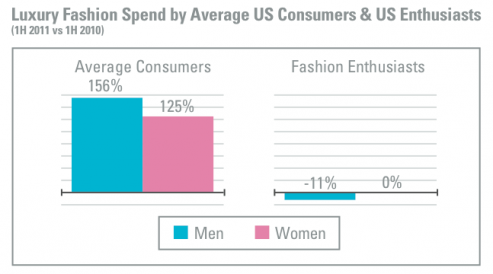 While male fashion enthusiasts have cut back on their luxury spending by 11% since 2010, average American male shoppers increased their spending on luxury fashion by 156% in the same time period. Female fashion enthusiasts have not changed their spending habits significantly, according to AmEx, yet average female buyers have spent 125% more on luxury fashion goods.
Much of this growth took place online in the "Discount and Flash Sale" category of spending, with average consumers increasing their spending by 48% since 2010. Seniors have taken advantage of this, too, increasing their spending on online discount fashion by a whopping 124% since last year. Who knew that Grandad was living so large!
There has also been a significant increase, 33% over last year to be exact, in full-price luxury goods spending online by average consumers, too. So it's not just bargain-seekers driving this trend.
The report does not state what role online discount sites like Gilt Groupe and Groupon have played in average consumers piqued interest in high-end fashion, but one imagines they might play a part. The economy is not on the rebound, as we learned late last week, but maybe people just want to play dress-up and pretend it is.
Ask a Question