Bernanke to Congress: Your Work Isn't Done
Federal Reserve Chairman Ben Bernanke spoke to Congress' Joint Economic Committee today about monetary policy, the state of the economy, and about what needs to happen for the economy to get going again. He urged Congress to get more involved, and laid out four key objectives for policymakers to help the recovery along.
First, in his prepared remarks, Bernanke explained to Congress some external reasons for the sluggishness of the economic recovery. He cited both the rise of the price of oil brought on by demand in emerging markets and the Arab Spring, and the disruption in trade caused by the tsunami in Japan as two factors that have slowed the economy in the first half of this year.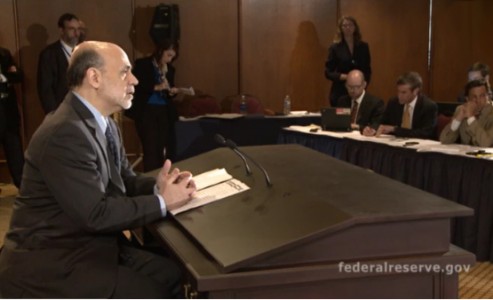 He went on to cite the more "persistent factors" in the economy that are slowing the recovery, like the decline in consumer confidence and spending, tightened access to credit, slow job growth, state and local government budget cuts, the sorry state of the housing market.
Congress Must Do More to Help
As chairman of the Fed, the only thing he can do to stop these trends from feeding into one another is to lower interest rates and hope people refinance their homes, or buy new ones. So, he delved into policy recommendations, by laying out four key objectives for Congress.
First, Bernanke argued, as is fashionable to do in Washington today, that long-term fiscal sustainability should be a key objective in Washington.
Secondly, in his prepared remarks, Bernanke urged Congress "to avoid fiscal actions that could impede the ongoing economic recovery." If these two seem to be at odds with one another — cut the budget, don't hurt the economy — Bernanke suggested that near-term recovery efforts can go hand-in-hand with long-term deficit reduction efforts.
Thirdly, Bernanke urged Congress to focus on long-term growth, instead of just focusing on the near-term. And finally, echoing the sentiments of most Americans, Bernanke called for an improvement in the way that Congress makes long-term budget decisions. Apparently political brinksmanship, like what we saw this summer, isn't Bernanke's cup of tea.
He concluded with a reminder to Congress, that monetary policy is not "a panacea for the problems currently faced by the U.S. economy," Congress must play their part in job creation he argued, calling it a "shared responsibility of all economic policymakers."
Ask a Question