CULookup Offers an Out for Frustrated Bank Customers
With the Durbin amendment in effect, and Occupy Wall Street gaining steam, now might feel like a good time to get out of your big corporate bank account. Now there's a web tool to help you do so.
Whether you want lower fees and better terms, or want to protest corporate banks' buddy-buddy relationship with the Beltway crowd, there's a great tool that makes it easier than ever to find a credit union near you, and help you decide whether you want to make the jump or not.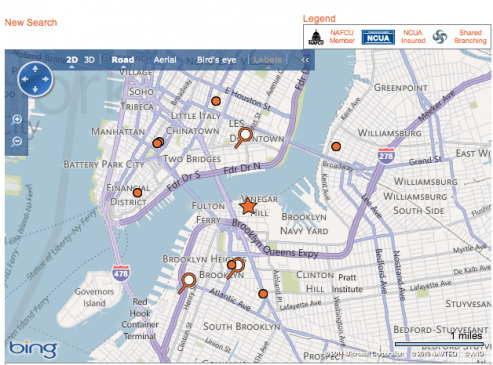 It's called CULookup — short for Credit Union Lookup, of course — and it's owned by the National Association of Federal Credit Unions, the trade association that represents federally-regulated credit unions' interests in Washington.
All you need to do on the site, to find out all about the credit unions closest to your house, is punch in your address. The search engine pulls up an interactive map which pinpoints the most conveniently-located credit union for you, and offers brief descriptions of the institutions, and shows their affiliations — whether they are insured by the National Credit Union Administration, whether they are NAFCU members, etc.
It's a good pitch for credit unions, who many people don't realize are a perfectly safe alternative to the big corporate banks, like Bank of America® or Wells Fargo. Indeed, as CULookup tries to demonstrate, credit unions are arguably a wise alternative to the big banks; many credit unions offer better rates and terms on accounts and loans than most big banks, and CULookup has the charts to prove it.
The Compare Rates page offers a side-by-side comparison of credit union's average rates on everything from auto loans to interest checking accounts, compared to commercial banks. Sometimes the banks do better, but it's all very straightforward. You can even look at rate comparisons in your home state, to get a better sense of where your money would do the most for you.
Whether they convince many Americans to make the switch or not, it's a great time for credit unions to make their case to Americans, who are increasingly disgusted by bloated national banks, their fees, and their relationship with regulators.
Ask a Question