Durbin's Amendment Finally Kicks In: Now What?
With interchange fee caps in full effect, the nation's largest banks must now cap the fees they charge merchants that accept debit cards around the country. The move has created a shift in the retail banking world, giving consumers less and less perks as banks scramble to fill their anticipated revenue gaps.
If you didn't already know, this past Saturday interchange fee caps rules imposed by the Federal Reserve officially kicked in. As its name implies, the rules will limit the amount of interchange fees that banks with assets of $10 billion or more can charge merchants that accept debit cards as a method of payment.
The swipe fee caps were first introduced by Illinois Senator Dick Durbin and included in the Dodd Frank Act signed into law last year. With the rule now in play, banks are now required to charge no more than 21 cents to merchants each time a debit card is swiped—down from an original 44 cents. That fee excludes an additional 0.05% of the transaction value, plus an additional penny if a debit card issuer meets certain fraud prevention standards.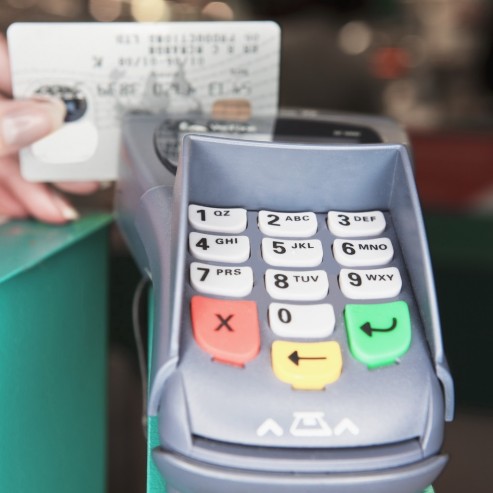 While the cut may appear steep, it's much less stringent than the original 12 cent cap proposed by the Federal Reserve this past December. Had interchange fee caps stayed at that level, banks were expected to lose up to $16 billion annually. Now, those losses will probably hover somewhere at around $11.5 billion at the higher end of the spectrum.
Swipe Fee Caps: What's The Point?
The rationale behind the interchange fee rule was that reducing swipe fees could provide merchants with some financial relief that would eventually trickle down to consumers. By providing economic benefits to retailers across the country in the form of reduced swipe fees, those same businesses can then transfer their savings to consumers in the form of cheaper prices. In fact, the National Retail Federation put out numbers this past weekend indicating that national retailers would save about $7 billion annually as a result of the rule.
The same day swipe fee rules kicked in, Durbin released a statement applauding his efforts to "bring fairness, transparency and competition to the debit card system" while at the same time giving small businesses relief from excessive fees. The reality of swipe fee caps has been less than rosy for consumers. While retailers can look forward to putting away an extra $7 billion, what's actually trickled down to banking customers is more bank fees and less services—all in the name of allowing large banks to maintain their revenue standards.
The real question now is whether the $7 billion retailers save will be worth the loss in services and new fees Americans are now and will continue to be subjected to.
Banks React: Consumers Suffer
No sooner than the federal government hinted at the idea of capping interchange fee regulations than large banks across the country first began eliminating free checking programs (Wells Fargo was one of the first to do so back last June, while Bank of America® recently announced plans to do similar in 2012).
The next victim of swipe fee caps and other financial service industry regulations was debit rewards programs. Banks began to roll back debit rewards programs when it became clearer that interchange fee caps weren't going to go away despite all of the debate. In the processes, these same banks argued that programs like free checking and debit rewards are funded almost entirely by the interchange fees banks collect from merchants accepting debit cards. Banks have also justified charging interchange fees on the basis that it allows them to fund fraud prevention measures, though merchants and card issuers still seem to be in debate over who really pays for fraud prevention.
More recently, banks have begun charging banking customers monthly fees simply for using their debit cards. While BB&T's CEO Kelly King hinted at the idea of charging this type of fee back in July, Wells Fargo became the first big bank to actually step out and begin charging its customers monthly debit card fees this past August. Bank of America® followed suit last week, and now tax preparation company H&R Block has made the decision to slash their checking account interest rates in half to a a 0.25% APY.
Is Durbin (And the Government) Really To Blame?
One begins to wonder whether or not Durbin has been living under a rock with the way he's been singing his own praises. And yet, one also has to critique the positions banks have taken in their own defense. Especially when big banks tout themselves to be champions of the Main Street businesses and hardworking American consumers. Let's not forget that big banks have been doing pretty good as of recently. The Federal Insurance Deposit Fund reported at the end of August that in the second quarter, FDIC-insured banks earned $28.8 billion in profits during the second quarter of 2011 alone—a $7.9 billion jump from the same quarter last year. In fact, banks have done better year-over-year for the past seven quarters.
When you bear all of this in mind, it kinda makes you want to drop everything, pick up a bongo drum and join the protesters rallying against corporate greed. But, if you're really pissed off about all the fees and lack of services being offered by the nation's largest banks then your quickest bet may just be to find another bank, perhaps even credit union. Since these type of financial institutions are not for profit, their focus is primarily confined to providing as many no-cost or low-cost retail banking services as possible.
Online banks also provide a great alternative to traditional banks since they have less overhead costs to contend with and can afford to offer products like free checking. Just remember: big banks may try to throw a fee or two at you, but you're not without options.
Carolyn Okomo is a personal finance writer and the Tuesday columnist for MyBankTracker.com. You can follow her tweets @CarolynMBT.
UPDATE: A representative for the American Bankers Association told us that banks are actually expected to lose $6.6 billion annually as a result of debit card fee caps.
Ask a Question