ING Direct Launches New MONEY Account for Teens
ING Direct, in an effort to reach out to younger customers and their parents, have launched a new teen checking account called MONEY. The tagline — "That's so MONEY!" — might be the only bad part.
ING Direct, the legendary online bank, typically offers competitive rates and terms. Not surprisingly, they didn't change much about their formula for their new teen checking account product, MONEY, which we first heard about back in August. But like most bank accounts for young people, the new MONEY account is marketed towards parents, too. "Tired of being the human ATM?" the website asks, touting the new product as a "debit card and bank account that you and your teen can manage together."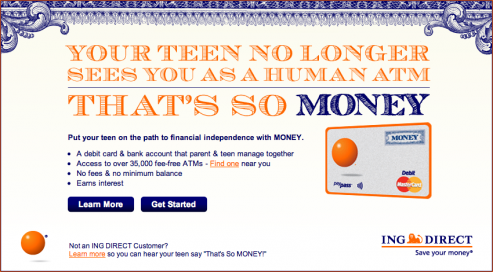 The account is being pitched as a good way for parents to help teens on their way to financial independence.
"Learning to manage your finances shouldn't be any different than learning to drive a car," said CEO Arkadi Kuhlmann, in his prepared remarks. He described MONEY as "a learner's permit for personal finance."
It's a pretty lenient learner's permit, though. It's a full-featured checking account with a free MasterCard debit card with PayPass capabilities, for teens on the go. MONEY gives teens almost full access to their money — there is a daily transaction limit of $500, thankfully — and gives parents the ability to monitor their child's bank activity, and of course, make deposits in the account. Parents can even opt-in to get real-time text messages about account activity: balance alerts, transaction confirmations, and the like.
Best of all, like most ING Direct products, the MONEY account offers great rates. There are no fees and no minimum deposit requirements. The account also earns interest at 0.25% APY. And, despite the fact that ING Direct is an internet bank, teen customers will have access to more than 35,000 ATMs for free, through ING Direct's Allpoint network.
Ask a Question