U.S. Bank Releases New Mobile Banking Apps
In one fell swoop, U.S. Bank launches new mobile applications for the three most popular smartphone platforms.
U.S. Bank (NYSE: USB) is stepping up on the mobile front with the release of new mobile banking apps for iPhone, Android, and BlackBerry devices.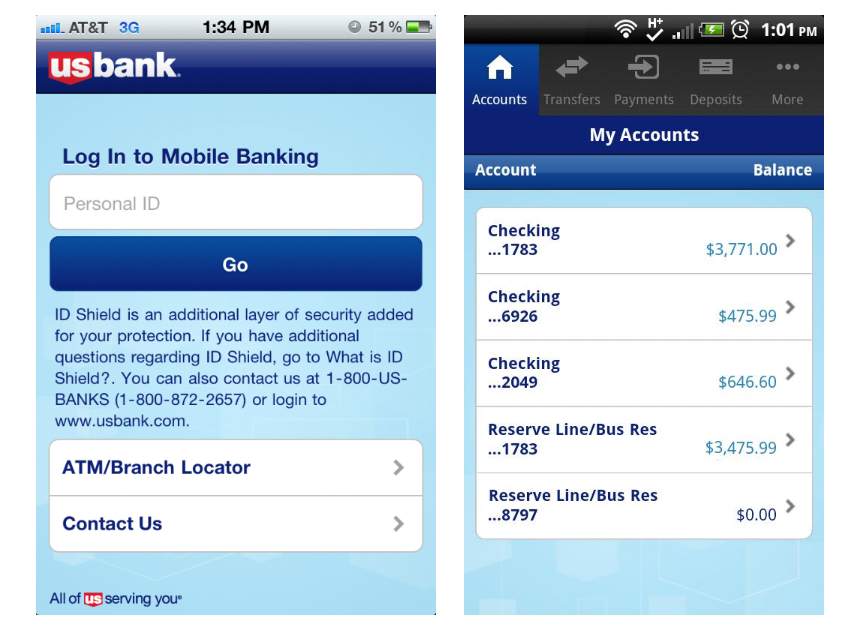 For customers with iPhones, the new U.S. Bank mobile app replaces the U.S. Bank Mobile Wallet app, which sported a generic iPhone design that lacked color and originality. The old app was developed by a third-party agency while the new app was created in-house.
The new look introduces more color and shift in design elements for a better user experience.
In terms of functionality, there were no major changes – it's still mobile banking as usual. Customers can still use DepositPoint to deposit checks with their iPhones. The new U.S. Bank now uses actual online banking credentials for customer logins – not a six-digit PIN.
One reviewer in the Apple App Store writes: "Love the new app. Faster, easier login, and U.S. Bank owned, so not a third party app like the last one."
The new U.S. Bank app is also available on the Android Market and BlackBerry App World. Checking balances, viewing transactions, paying bills, transferring funds, and locating ATMs are standard capabilities of the apps. However, the Android version offers mobile check deposit by the BlackBerry version does not.
Mobile Apps Are Vital
Recognizing the increased utilization of mobile apps, banks make the effort to provide effective and secure mobile banking as a standard service.
A recent survey by Javelin Strategy and Research found that consumer adoption of mobile banking has jumped nearly 60% in 2011. Consumer demand for mobile banking is now considered a "must-have" channel rather than a "nice-to-have" channel.
SunTrust Bank, which also used the same third-party agency as U.S. Bank to develop its first mobile apps, recently unveiled new mobile apps that now delivers the same visual improvements as U.S. Bank.
By making it easy on the eyes and fingers, banks aim to increase customer satisfaction.
Ask a Question