American Express Launches iPad App
User experience design ramps up in the newly released iPad application for American Express cardmembers.
American Express (NYSE: AXP) has introduced the first version of its tablet application for the popular Apple iPad.
With the increased screen real estate provided by the tablet, developers were able to design an app that delivers a better interactive and visual experience compared to the American Express mobile apps for smaller devices.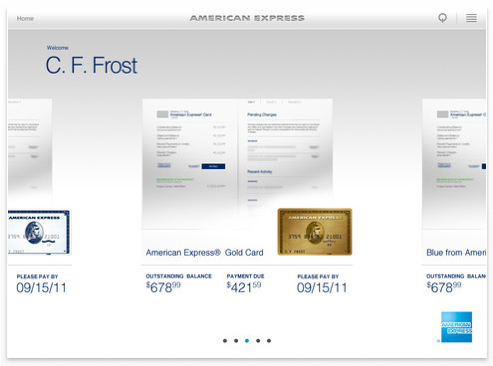 After logging in, users will be presented with all their American Express card accounts in separated sections with their own individual card details. Select a particular account and users are shown typical account information in a neat, easy-on-the-eye format.
Functionality includes checking balances, viewing recent transactions, scheduling payments, and checking Membership Rewards point balances.
On the "Pay Bill" screen, users will a minimalist design lays out that the due date, linked bank account, and payment amount for a simple bill payment interface.
While the iPhone app for American Express may lag behind the polished iPad app in the "looks" department, it has a functionality not yet available on the iPad app: mobile rewards redemption.
The latest update to the American Express iPhone app lets cardmembers redeem points from their Membership Rewards balance on-the-go, which is increasingly appropriate as more consumers depend on mobile devices for banking.
Finance iPad Apps
While many financial institutions already have apps for iPods, iPhones, and Android devices, few have iPad apps. American Express is just joining a small group of financial institutions that have released an app for the world's most popular tablet.
In general, the iPad apps from these banks sport a refined design and user experience that is made possible with the increased screen size.
As of October 6, American Express stands behind Bank of America®, Chase, and Citibank, respectively, in the list of top free finance iPad apps from a financial institution.
Ask a Question