Quicken 2012: Streamlined with Everyone in Mind
Quicken by Intuit is proud to announce their newest version, Quicken 2012, which features redesigned budgeting and debt management tools to help consumers plan their financial future.
Quicken started out as a simple computerized program over 20 years ago to help balance checkbooks, and has evolved into the most popular personal financial management tool. Quicken 2012 focuses specifically on how to stay on top of your future by properly utilizing the money you have.
I spoke with Eddy Wu, the head of product development at Intuit, who walked me through a demo of the redesigned product with the new tools. With the new update Intuit has simplified budget set up and debt reduction plans.
Budgeting
As a seasoned budgeting tool reviewer, I knew what I was looking at right when I saw it.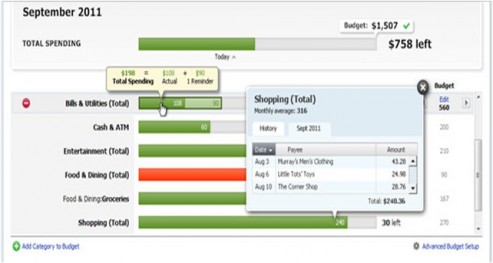 There was a pie chart breaking down monthly expenses, which was also detailed in bar graph form. As mandated by these types of tools, the chart is generated by pulling transactions from your bank account. You can set reminders for recurring as well as one-time bills, and have them factored right into your budget.
It also indicates upcoming bills and payments with reminders on the bottom of the screen including expected dates of arrival. The colored bars that track your spending will shade upcoming payments in your budget tracker to make sure they are accounted for.
After you become familiar with it, you may appreciate another new feature: suggested budget.
Quicken will get to know your spending habits and will recommend ways to save by shaving money off a specific category. But with the click of an arrow you can add another ten dollars, or change the number altogether.
You can also scrutinize every purchase that it pulled in case you're wondering why you spent so much that month on gas, for example. You can add as many categories as you like and edit as you like.
Hidden on the bottom-right corner is an advanced budget tab to allow you to minutely manage every penny you spend for the next twelve months. If you need more money for travel during holiday season, simply add a few hundred to that category.
"Most users are just looking for a basic tool to understand their monthly expenses, so the advanced budgeting is there only for those who really seek it out because it's very comprehensive," Mr. Wu explained.
Debt Reduction Planner
While this has a general title of "debt reduction," it's actually geared specifically toward credit card debt, which can be micromanaged, unlike loans which have set due dates.
In the previous version this feature had a total of 15 screens to navigate through, so it has been drastically reduced to yield a much simpler layout.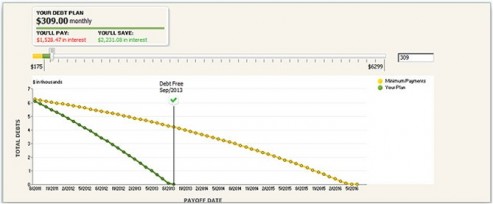 After entering your card information, it will show you how much debt you (and your spouse) owe and the interest rate on each card. It will track minimum payments necessary for each card until you finish paying them off, supposing you don't use them. If you want to pay more than the minimum, adjust the amount you pay with a tab slider and the final date will change accordingly.
If you want to kick-start your payments with something from your savings, there's an option for that too. They even included a "what-if?" tab to show you how quickly you can get out of debt depending on how much you can pay.
It's Not Mint.com
It's true, there are many sites and products like these already in existence, but it's nice that Quicken 2012 shows such drastic improvements. With such a wide variety of users, some of whom are 20 years older than when they started using it, it's hard to cater to just one demographic.
Quicken strives to be a universal product as Mr. Wu explained of the debt reduction tool, "this product has been made for anyone with significant credit card debt."
With this new product they have successfully appealed to the generic user without trying to single out one demographic, like the student or the working mom. Anyone can utilize a comprehensive tool to view their finances, so Quicken ensured that their customers would be happy with the new advances.
In some cases it's more difficult to appeal to a wide audience than a specific group of people since you must anticipate everyone's needs. The site is not too feature-heavy, nor is it lacking. The result is a streamlined product that focuses on your future.
Ask a Question