Discover Cardmembers Can Use Cash Back at Amazon.com
Paying for goods at one of the most popular online retailers just got easier if you're a Discover cardmember.
A partnership between Discover (NYSE: DFS) and Amazon (NYSE: AMZN) will allow cardmembers to use their cash back balance towards their purchases at Amazon.com, directly through the merchant's checkout process.
Discover cardmembers have the option of linking their card accounts to Amazon.com. When they are ready to pay, cardmembers will have the option to use all, part, or none of their accumulated Discover Cashback Bonus to complete the purchase.
If the cash back balance doesn't cover the order total, the Discover card is charged to cover the rest.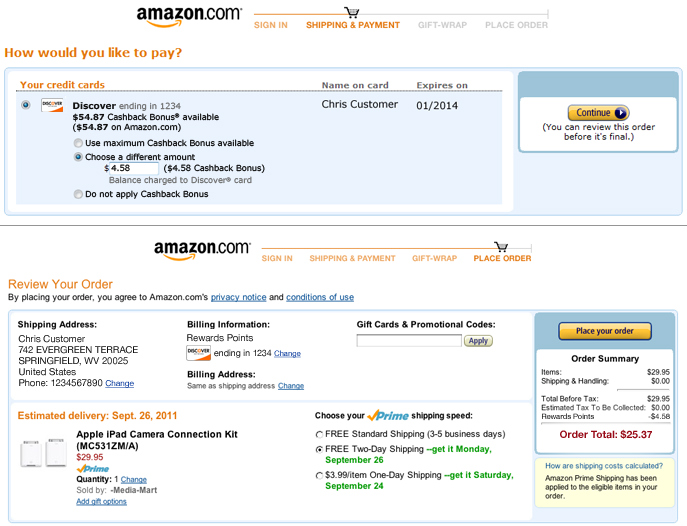 This is part of Amazon's Shop with Points program that was first launched in June with the Chase-issued Amazon Rewards Visa Card.
"Amazon's broad selection of products combined with the convenience of using Discover's Cashback Bonus directly at Amazon.com provided our customers with an even better shopping experience," said Dana Traci, vice president of rewards at Discover.
Discover cards that are eligible for linking with Amazon.com include Discover More, Discover Motiva, and Discover Open Road.
Discover Miles and Discover Escape cards can also be registered to pay with miles at Amazon.com.
Convenience at a Cost
Until the end of 2011, Discover cardmembers automatically earn 2% cash back on up to $250 in purchases each month on Amazon.com. Even without this promotion, cardmembers can earn 0.25% to 1% cash back.
However, when Discover cardmembers redeem their cash back through an Amazon.com purchase, they don't receive cash back on that purchase (or the amount redeemed).
Cash back can be also redeemed for brand-name merchandise, gift cards, and statement credit or it could be deposited into a bank account.
Had the cash back been deposited into a bank, the entire Amazon.com purchase would be charged to the Discover card and more cash back would be earned. Otherwise, cardmembers would have missed that opportunity.
Ask a Question