Gawker Gives Out Citigroup CEO's Phone Number
Gawker, ever the provocateur, has posted the CEO of Citigroup's phone number. Vikram Pandit earned this honor by telling attendees of a Fortune breakfast that he would be happy to speak with the Occupy Wall Street protesters.
On Wednesday, Fortune magazine organized a breakfast, at which Pandit spoke about the Occupy Wall Street protesters in sympathetic terms. According to Bloomberg Businessweek, Pandit said the protest's complaints were "completely understandable." And, he would "be happy to talk to them any time they want."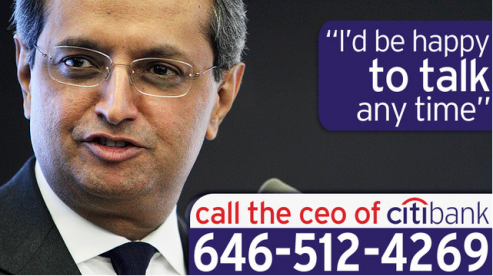 Gawker is calling his bluff, and has posted his cellphone number, in case you want to talk to him right now. MyBankTracker tried the phone number twice, and found that it went straight to voicemail one time, and gave a busy signal the next time.
But fear not, those of you who really want to speak with Mr. Pandit: Gawker also made public his office line and his email address.
Pandit has been CEO of Citigroup since late 2007, which anyone can agree, was a terrible time to accept a job like that — right before anyone really knew what was coming.
But Pandit proved to be a wise man in many regards, both in business and PR. In 2009, the bank posted net losses of $1.6 billion; in 2010, the bank posted $10.6 billion in net profits. Both of those years, Pandit took a salary of only $1 (according to Equilar, his total estimated compensation in 2009 was actually $125,001, so it appears that he didn't make this decision until he was a paycheck or two into the year, which is consistent with his announcement of the $1 salary in February of that year).
Of course he has been handsomely rewarded since then, even getting a $23.2 million retention payment from Citigroup's board as a thank you.
So while Pandit never was part of the 99%, and he never will be, he was at least cognizant of how unfair executive pay was in the midst of a recession brought on by the Wall Street's failure.
So our question to Gawker is this: just because Pandit offered to talk to the protesters, is he the guy you want to harass? For a bank CEO he seems pretty reasonable, even if he is insanely wealthy (how else could he live on $2 for two years?). There are worse people out there, plenty of them.
Ask a Question