This Guy Makes Bank Robberies Look Easy
"Fool me once, shame on you. Fool me four times, maybe I should get a better security system," is what the manager at one Chicago bank branch should be saying after the same robber has struck in the past two months.
Since September the same man is suspected of robbing the Chicago Community Bank branch located on 52. E. Lake St., in Chicago, Illinois.
He is described as a 5-foot-8 black man in his 40s, last seen wearing a tank top and white baseball cap according to police descriptions. BanditTrackerChicago.com (no relation) released the following images from three of this man's heists.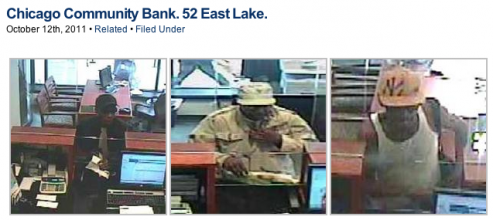 Besides his most current robbery on October 12, 2011, he is also to believed to be the crook behind three other robberies occurring on August 12, September 6 and 30. Although he has not brandished a weapon, the crook did use a note alluding to one.
Looks like Timothy Love should've taken a not out of this guys book. Love, a Delawarean robber was unsuccessful early this week when a bank teller was unable to read his handwriting resulting in Love's fleeing the scene.
Why hasn't this guy been caught?
Well, there are various factors that contribute to his stealthy getaways, one of the largest is how banker are instructed to handle hold ups. Bank branch employees are trained to be compliant during bank robberies as to avoid injury to themselves and customers.
So far, there have been 72 bank robberies in the Chicagoland area this year, a huge decrease from last year's 173 count. Unless there is a huge number of robberies in the next few months, or this one guy gets ridiculously good, the 2011 year should prove better than 2010 in terms of robberies.
With a 10% failure rate, it's no wonder bank robberies are a popular form of crime. Chicago Police are urging any one with information to come forward. They are also promising a rewards according to the bandittrackerchicago.com website.
Ask a Question