Banks May Be In Big Trouble After This Investigation
Thursday in response to a Representative Chaffetz' legislation calling for a repeal of the Durbin Amendment, House Democrats penned a letter to Attorney General Eric Holder asking him to investigate price signaling among commercial banks in the wake of the Durbin Amendment.
Representative Peter Welch (D-VT) wrote a letter to Eric Holder on Thursday, requesting that he investigate whether big commercial banks, in levying fees post-Durbin, have violated anti-trust laws.
"We are concerned that communications between banks and bank associations that may account to price signaling or collusion have occurred in the wake of Congressional action to reform debit card swipe fees," states Welch in the opening paragraph.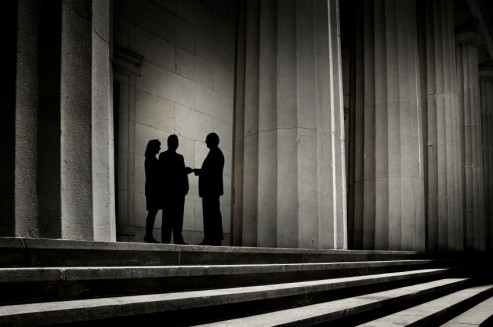 The letter goes on to bemoan Visa and MasterCard's duopoly over the card networks, which Welch argues "raises serious legal questions." Welch points out that as a result of this noncompetitive market, Americans have the "dubious honor" of paying the highest swipe fees in the world, which have increased rapidly over the last decade. But that isn't the heart of the matter.
Welch goes on to cite a few news stories (including one of our own) where bankers and banking trade associations have publicly acknowledged that they would be raising fees when Durbin went into effect.
He acknowledges that banks should be able to make "independent business decisions based upon the landscape as they see it," but added that "antitrust issues are raised…if they are attempting to facilitate group decisions on their prices, terms, and conditions."
So long as all the big commercial banks knew in advance that the others would be introducing fees to checking accounts post-Durbin, none faced a competitive risk by doing so. And, indeed, Bank of America®, JPMorgan Chase, Wells Fargo and Citibank — the top four banks in the nation — have all raised fees in October, since the amendment has taken effect.
The letter was written just a day after Rep. Chaffetz (R-UT) introduced legislation to repeal the Durbin Amendment, called the Consumer Debit Card Protection Act. The bill was sent to the Committee on Financial Services, on which Rep. Barney Frank, co-author of the Dodd-Frank bill, is a ranking member.
Welch's letter was also signed by Reps. John Conyers (D-MI), Raul Grijalva (D-NM), Keith Ellison (D-MN), and Mike Honda (D-CA). Of all the signees, Rep. Ellison is the only one with a seat on the House Committee on Financial Services, where Rep. Chaffetz' Durbin repeal bill awaits markup and debate.
Ask a Question