More Shoppers Head to the Internet
Everyone loves online shopping because there are a host of reasons to do it — you'll save gas, avoid crowds and probably find a promo or two. This holiday season will see a huge bump of online shopping compared to 2010.
Even though you might have thought online shopping is ubiquitous, it is apparently still gaining popularity. According to a study by SymphonyIRI Group, 81 percent of consumers will shop online this year compared to just 54 percent of consumers in 2010. This includes comparison shopping before making an actual in-store purchase.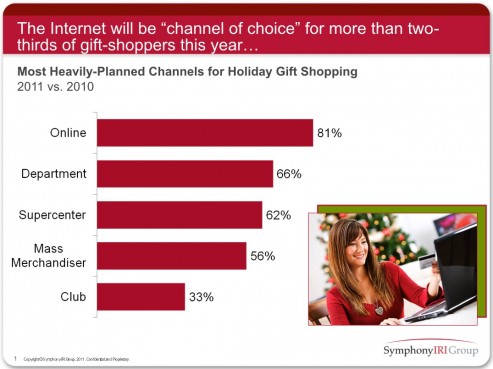 Is This a New Concept?
How can it be that people are still finding out about the conveniences of shopping online to this degree? Are that many people lagging behind in finding out about the conveniences of the Internet including group purchasing and daily deals?
SymphonyIRI's survey results found that only a few people are looking to cut spending across the board.
Twenty-six percent of respondents plan to spend less on gifts, 16 percent will reduce spending on food and drink and 11 percent will spend less on alcohol, although it wasn't clear from their report whether this means they want to purchase the same amount for less money or just cut down on spending altogether.
A spokesperson was not available for comment, but the prevailing opinion of the report is that it will be a delicate balance between saving money while still producing a beautiful festive atmosphere.
Their findings state that the Internet provides the best shopping experience because of the 24/7 capabilities (85 percent), it saves time (79%), and you can perform comparisons while you browse (70 percent).
A Superfluous Study
With the exception of the data about more consumers performing online shopping, this does not report on any other trends or new methods drawing consumers to online shopping for the holidays. Groundbreaking new technology in the form of the iPad (and all tablets) will change this year's holiday shopping season, but the study doesn't attribute anything to that.
Hopefully these questions will be answered at SymphonyIRI's free webinar, entitled "Holiday Shopping 2011: What Consumers Can Expect in Their Stockings This Year," on Thursday, Oct. 20 at 12 PM EST.
Ask a Question