What is the Opposite of Occupy Wall Street?
There is no shortage of opinion on Occupy Wall Street, but it does seem that a majority is of the youth is in support of this cause. A facebook post grabbed our attention showing a contradicting view.
Wanting to show the contradicting side of the protests, MyBankTracker.com stumbled on this photo posted on CBS Radio correspondent Dom Giordano's Facebook: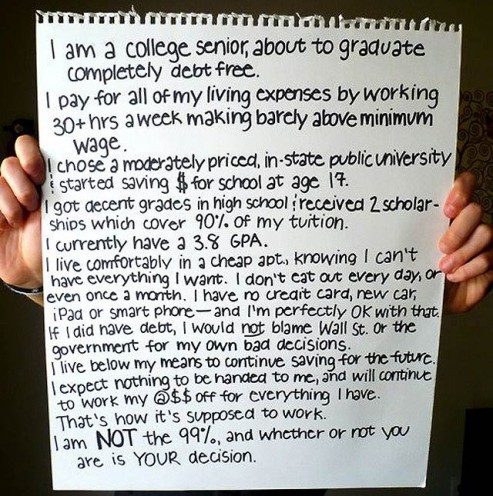 That post describes MyBankTracker.com writer, Marina Shifrin's college experience to a T. After saving money at young age, working multiple jobs and working hard in college, Shifrin was able to save over $50,000 on college expenses.
5 Takeaways From This Sign
Although this post takes a stand about Occupy Wall Street it also sums up how to graduate college debt free.
"I chose a moderately priced, in-state public university and started saving money for school at age 17." Start saving for college in High School.
"I pay for all of my living expenses by working 30+ hrs a week making barely above minimum wage." Work in college to pay off loans, tuition and other bills.
"I don't eat out everyday, or even once a month. I have no credit card, new car, iPad or smartphone — and I'm perfectly ok with that." Cut out expenses you can live without i.e., smartphone, cars, high bills.
"I live comfortably in a cheap apt, knowing I can't have everything I want." When you don't have huge responsibilities like a family or a full time job, live below your means
"I got decent grades in high school and received 2 scholarships that covered 90% of my tuition." Study hard and apply to scholarships
That being said, everyone is in a different situation. Many of the protesters at Occupy Wall Street have different stories to share and problems that need solving.
Those that get into debt, often don't realize how bad it is until they can't get out. Others, are in debt because of uncontrollable circumstances. Either way, it looks like the government is extremely slow moving and the solution is not going to be an easy one to find.
Being in debt is tough, but the best thing to help yourself is to be proactive about finding the solution. Talk to advisors, get help and set up a budget to stick to.
Ask a Question