Durbin to Wells Fargo: Don't Blame Me
More accusations are flying over the Durbin Amendment. This time, the eponymous amender himself wrote an open letter to Wells Fargo CEO John Stumpf.
On Wednesday, Senator Dick Durbin (D-IL) wrote to Wells Fargo's John Stumpf, admonishing him and his bank for the $3 debit card charge they are testing out in New Mexico, Washington, Oregon, Nevada and Georgia.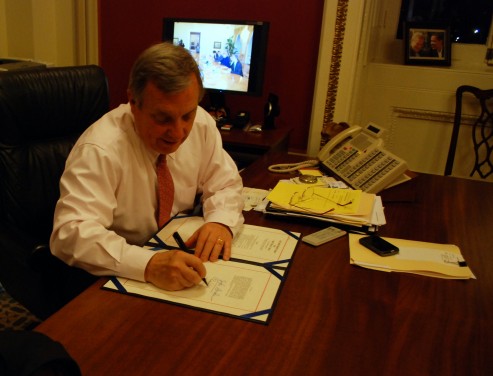 Durbin: I'm Disappointed in You
"If you were hoping that your new fee would go unnoticed, it has not," wrote the senator, expressing his surprise that they would levy the fee after the Bank of America® blow-back.
The senator continued on in disappointed teacher mode, writing, "It is unfortunate, though not surprising, that your bank is now blaming swipe fee reform for your decision to impose this significant new fee on your loyal customers."
To prove that his controversial amendment is not responsible for the price hikes, and that debit fees are little more than big banks gouging their customers, Durbin broke out the calculator. His figures are pretty damning.
Number Crunching Proves His Point
Using publicly available data, Durbin demolishes the notion that the $3 fee is necessary to cover costs associated with debit card transactions. Durbin shows that before the new regulation, Wells likely pulled in $2.2 billion in 2010 on debit swipe fees, from an average charge of 44 cents on about 5 billion transactions. And, at a low estimate of four cents per transaction, these 5 billion swipes would only amount to $202 million in costs (Durbin does allow that it could have been as high as $608 million in costs), meaning that Wells netted $2 billion a year off of swipe fees before Durbin's amendment was in place.
According to his calculations, Wells should still clear $1.22 billion annually after the reform goes into place, meaning anywhere from $600 million to $1 billion in net revenue on debit card swipes for the banks, after costs.
"Your spokesman's claim that Wells Fargo needs to charge all its customers an additional monthly fee of more than $3 in order to make up the 'cost' of providing debit cards simply does not add up," wrote Durbin.
Unless big banks want to make their costs public, it seems like Durbin has finally settled the debate over whether debit fees are necessary for bank's bottom lines, or if they amount to price gouging.
Ask a Question