I'll Be Observing Bank Transfer Day, Sort Of
Bank Transfer Day is coming up soon, and I'm joining the horde. Thing is, I won't be transferring to a credit union. Perhaps it's not in the spirit of the new holiday, but I'll be joining an Internet bank. If you're anything like me, you might consider it too.
Upon hearing the news that Bank of America® would be charging a $5 monthly fee on debit card use, I wasn't outraged. I was peeved, to be sure, and I felt strangely helpless. I felt as if, well, this was my fate as a luckless Bank of America® customer.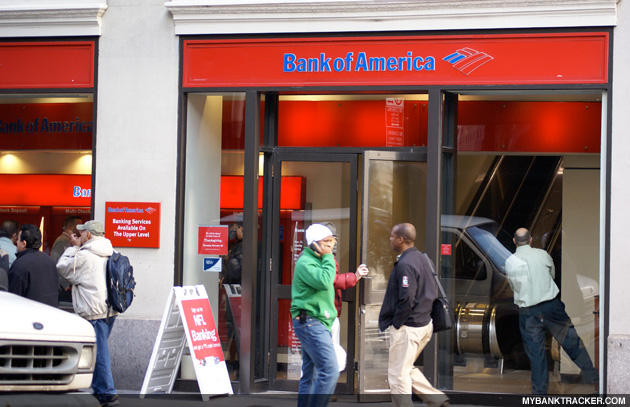 My History with Bank of America®
I have been banking with them for nearly 13 years, starting right before the San Francisco bank was purchased by North Carolina-based NationsBank. I opened my first account in BofA's hometown, at my neighborhood branch in San Francisco just two blocks from my parent's house. Because I've had an account with them for so long, it has taken me some time to realize that I'm just a customer of a multinational corporation — whether they were from San Francisco or not. As such, I should have no feelings about my neighborhood or hometown tied up in my banking decisions because BofA certainly doesn't.
Bank of America® was born in the months following San Francisco's devastating 1906 earthquake. When the quake hit, A.P. Giannini hid his Bank of Italy deposits in a fruit cart and took them out of town. Upon his return to the ravaged city, he was the only person able to make loans after the fire. I've always thought that story was amazing: a small-time Italian banker helping to finance the reconstruction of what is arguably the greatest city in North America. But that Bank of America® doesn't exist anymore, and it hasn't for about as long as I've been a customer.
Ever since shopping around for rates and realizing that as a Bank of America® customer I get virtually nothing in return for banking with them — other than envelope-free check deposit, which I can admit is pretty cool — I realized that I'm making a choice by banking with them, and it's a bad one. No matter how long I've been with them, every billing period that passes and I stay with them, I'm buying a product. And that product is no longer worth it. For $60 a year, I could subscribe to the New Yorker or buy myself a nice bottle of whiskey for Christmas. If Bank of America® wants to deprive me of good reading material and/or nice bourbon, then I'm afraid we must part ways.
My Transfer Plan For Bank Transfer Day
So I will be joining the 55,000-odd people on and around November 5th who will be ditching their big faceless corporate banks. But I won't be ditching Bank of America® for a credit union. I'm going for an Internet bank. While I can appreciate the sentiment of Bank Transfer Day, I have found an Internet bank makes more sense for my needs — maybe you will, too.
The heart of the matter here is that Bank of America® is charging debit card users fees for overhead made necessary by virtually every other function of a checking account, especially the check writing. Debit cards and online banking are cheap for banks to process; that's why they push customers towards them, and that's what makes an Internet bank appealing to someone like me.
I write one check a month, and it's to my landlord. Every other bill I get I pay online through my bank. A traditional checking account, and a bank that needs to pay for the overhead, is not something that a person like me should be shopping for. I won't get the rates I want, and I might have to pay fees I don't want to. Why should I be paying my bank's rent, when I only need to write one check a month for my own?
At my local credit union in Brooklyn even, I'd have to pay $5 a month for online bill pay, and $3 a month for the simplest checking account. And I'd have to actually visit the branches to deal with opening an account, plus pay a one-time membership fee. Strictly on personal finance terms, staying with Bank of America®s makes more sense than my credit union, and I'm not interested in either.
In the coming weeks, I'm going to move my savings and checking accounts out of a brick-and-mortar bank, and I don't plan on returning to one (except for buying rolls of quarters for laundry — real banks are great for that) until I'm at a point in my life when I have to speak with a loan officer. If your life is anything like mine you might consider doing the same, even if all the cool kids are lining up at the credit union.
Ask a Question