Series I Savings Bonds Tops CDs, Pays 3.11% in 12 Months
In this tough savings environment, Series I savings bonds outshine the best of yields on deposit accounts.
Online savings accounts, money market accounts, and CDs are not getting too much love thanks to disappointing interest returns. Fortunately, Series I savings bonds are here to rescue cash-heavy, yield-seeking savers.
For those who opt to purchase I-bonds before the end of October and redeem them after 1 year, they would earn the equivalent of 3.11% APY – which is currently impossible to find on a 12-month CD.
Now that's an enticing savings opportunity.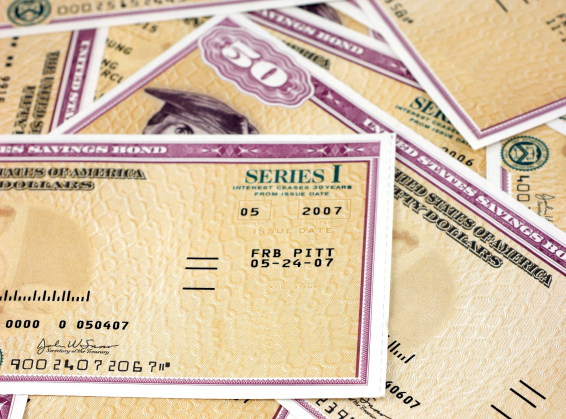 Inflation Carries On
The composite rate of an I-bond is derived from a formula that incorporates a fixed rate component and the semi-annual change in inflation in the months of March and September. The fixed rate stays the same for the life of the bond while the inflation rate component changes every six months.
New fixed rates and inflation rates take effect in the months of May and November.
The May 2011 Series I savings bonds composite rate was an attractive 4.60%. The latest released Consumer Price Index for All Urban Consumers (CPI-U) revealed that the semi-annual inflation rate was 1.53%, translating to a November 2011 3.06% inflation rate component for I-bonds.
Prospective savers are presented with a two-week window where they can buy I-bonds and lock in the May 2011 composite rate for six months, while getting a glimpse of the composite for the next six months.
There is a penalty equivalent to the last 3 months of interest if an I-bond is redeemed within 5 years after purchase.
Accounting for this penalty, I-bonds bought in October 2011 and redeemed in October 2012 will effectively earn a 3.11% return.
CD Rates Suffering
Due to the Federal Reserve's projection of keeping federal interest rates at super low levels until 2013, CD rates are expected to remain depressed as well.
In the latest MyBankTracker.com CD Rates Report, the national 12-month CD rate average was 0.69% APY as of September 30, 2011.
Doral Bank has the leading 12-month CD paying 1.15% APY. First Internet Bank is offering the leading 5-year CD at 2.20% APY.
With I-bonds dishing out a monstrous 3.11% return after one year, it would not be surprising for consumers to want to pile their cash reserves into I-bonds.
However, there are annual limits the amount of I-bonds that can be purchased. Consumers can buy a maximum of $5,000 in electronic I-bonds and a maximum of $5,000 in paper I-bonds. In 2012, the Treasury will cease sales of paper I-bonds.
Are you considering purchasing Series I Savings bonds with relatively higher rates of return on such low-risk savings vehicles?
Ask a Question