Discover Revives Disposable Card Numbers
A neat security feature for Discover cardmembers took a short leave-of-absence before coming back to do its job.
The death of Discover's Secure Online Account Numbers feature did not come as good news to cardmembers, whose voice eventually brought the security feature back to life.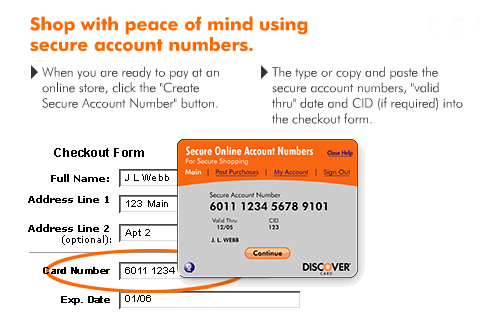 Discover (NYSE: DFS) cardmembers may have seen a small notice when they log into their online accounts.
"Due to overwhelming feedback from a loyal group of Discover customers about the discontinuation of Secure Online Account Numbers, we have decided to reinstate the program," said a Discover spokeswoman.
Starting October 14, cardmembers are once again able to generate new Secure Online Account Numbers for online purchases while existing Secure Online Account Numbers remain active.
Customers Prefer Extra Security
The program creates one-time disposable card numbers that accountholders use to make online purchases. Each of these numbers work only at a single merchant, so anyone who gets a hold of these numbers won't be able to use them anywhere else for fraudulent activity.
Secure Online Account Numbers offer an added layer of security and peace of mind when shopping online, especially after several cases data breaches at popular merchants in the past year.
In early September, Discover discontinued Secure Online Account Numbers because the company felt that the program was not needed due to the security measures already deployed by the credit card industry. But, apparently, customer demand played a major role in bring the feature back.
"Although we have many security processes in place – including $0 fraud liability – we learned through their feedback that our cardmembers still liked to have the added control of using encrypted account numbers," the spokeswoman added.
Other major credit card issuers that currently offer this service include Bank of America® and Citibank. American Express discontinued its version of temporary card numbers, called Private Payments, in 2004 saying that plenty of fraud protection was already in place.
Ask a Question