Ally Bank Completes Roll-Out of eCheck Deposit to All Customers
A phased roll-out of scanner-based check deposit features has been completed, good news for Ally customers as it is available for all of them.
Ally Bank customers who've been on the sidelines for the bank's eCheck Deposit feature don't have to wait any longer as it is now available to all customers.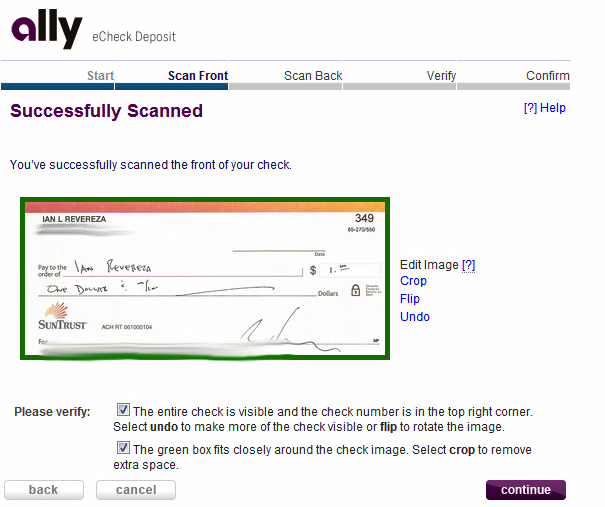 In April, Ally Bank introduced the free scanner-based check deposit service that allowed customers to deposit paper checks by uploading scanned images of those checks. The service was well-received since Ally Bank is an online bank, which isn't able to offer ATM check deposits.
The eCheck Deposit was rolled out to customers in phases to collect feedback and refine the service along the way.
Over the past six months since the launch, Ally has improved its eCheck Deposit Wizard, which guides customers through the check deposit process. Ally says that the Wizard is now accessible on Mac 10.6 and Windows platforms and compatible with Google Chrome, Safari, Mozilla Firefox and Internet Explorer.
Online Bank Wars
While this comes as good news to customers who've been eagerly waiting to get the scanner-based check deposit feature, many others are more excited for Ally's native mobile apps that are currently in development.
In early September, Ally announced its plans to release "several mobile offerings" that include native mobile apps for iPhone and Android devices. Additionally, convenient features including mobile check deposit, bill pay, and more will soon follow the launch of the mobile apps.
The string of technological offerings bolster Ally's position in an increasing crowded online banking industry.
Right now, other online banks that offer scanner-based check deposits to consumers include USAA, EverBank, and Bank of Internet.
ING Direct, arguably Ally's biggest competition, said in June that the bank was targeting a summer release for scanner and mobile check deposits as it was in the final stages of launch plans. Currently, ING Direct has not yet released either feature.
Ask a Question