Synovus Bank Launches iPhone, Android Apps
One of the biggest banks in the southeastern United States introduced mobile banking applications recently, sure to draw in more tech-savvy customers.
Mobile access to bank accounts are becoming more and more of a standard offering rather than just a special feature.
Synovus Bank (NYSE: SNV), not as well known as giants like Bank of America® and JPMorgan Chase, has recently rolled out native mobile banking apps for the iPhone and Android platforms.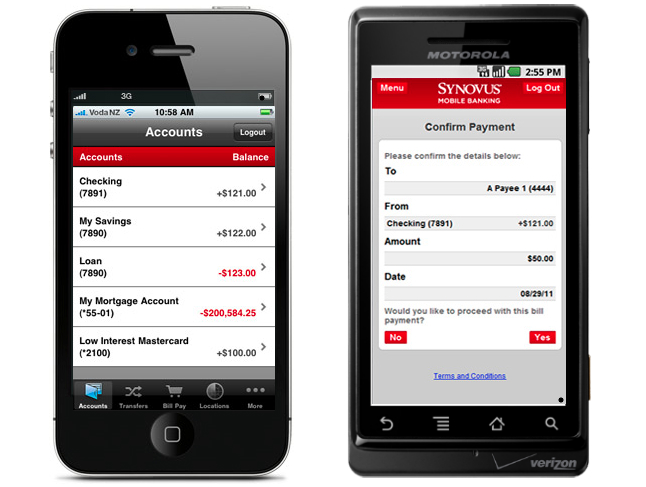 Unlike many banks, customers don't typically walk into a branch with a "Synovus Bank" sign over the entrance. Instead, Synovus Bank operates 30 bank divisions spread out across the Southeast. Many Synovus Bank division even offer the same products and services while others only vary slightly.
Customers of all divisions of Synovate Bank are able to access their accounts through the Synovus mobile apps. Registration for Online Access Internet Banking is required to use the mobile apps. Users have to select which eligible accounts will get mobile banking.
Mobile Banking Capabilities
The Synovus Mobile Banking apps are relatively basic mobile banking apps that allow customers to check accounts balances on deposit accounts, credit cards, and loans, review account activity, transfers funds between Synovus accounts, pay bills, and locate nearby branches and ATMs with GPS.
"We are in product development to add a number of features that we believe our customers will enjoy using," says a Synovus Bank spokesperson.
Currently, Synovus Bank divisions does not offer person-to-person payments or remote deposit capture through online or mobile banking.
The Synovus Bank mobile apps are immediately available for download now in the Apple App Store and Android Market.
The Columbus, Georgia-based bank ranks among the top 50 U.S. banks with over $28 billion in assets and nearly $23 billion in deposits as of June 30, 2011. Synovus Bank has a prominent banking presence in the southeastern U.S. with divisions in Alabama, Florida, Georgia, South Carolina, and Tennessee.
Ask a Question