Bank Review Giveaway Brought to You By MyBankTracker.com
Enter to win a Boogie Board™ LCD Writing Tablet with Stylus Holder from Brookstone when you leave a review of your bank in MyBankTracker.com's Bank Review Section.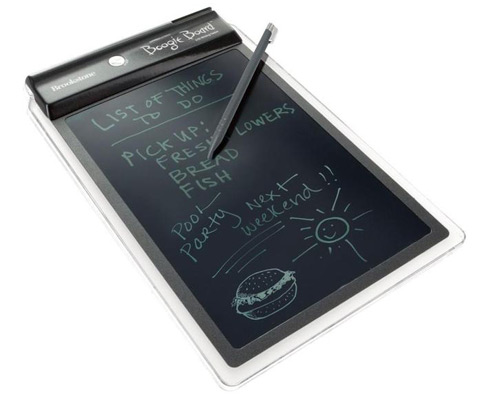 It's that simple! Once you have reviewed your bank the team will get a notification and we will enter you into the drawing for a chance to win the Boogie Board. Hurry, the giveaway only goes until Friday, October 28 at 11:59 PM EST.
We will choose the winner at random and notify them this weekend.

About the Boogie Board™ LCD Writing Tablet
The whiteboard is so 2003! Make your place look less like a dorm room and more like a chic and modern space with the Boogie Board.
This super cool tablet is not only a fun gadget for adults and kids, but it also is environment friendly. This LCD screen is pressure-sensitive to get down all your notes and doodles. When you have gotten your thoughts or message down, you can just hit the erase button and start with a clean slate.
Each Boogie Board comes with 50,000+ erases, is lightweight and durable — so take it on vacation with you. Check out this video to see what else it can do:
Who doesn't love to jazz up their office, home or any space with a trendy Brookstone toy? Let us know what you think of your bank, get your friends and family in on the action and one of you will be going home with new innovation to note taking.
Ask a Question