CBO Confirms OWS Complaint
Confirming what Occupy Wall Street protesters already knew to be the case, the Congressional Budget Office released a report on Wednesday demonstrating that the last three decades of economic growth have heaped rewards on the top 1 percent of earners, and few else.
The CBO report, titled Trends in the Distribution of Household Income Between 1979 and 2007, examines the change in the concentration of wealth in the last three decades, using 1979 and 2007 as bookends because both were followed by a recession; the report gives us a picture of what the growth paradigm of the Reagan-Bush-Clinton-Bush years did.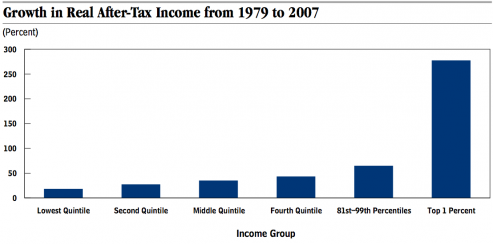 Defined by lower taxes, financial deregulation, access to cheap credit, the last few decades saw some real growth: 62% across the board, in after-tax income. Where that 62% went, though, is the story here. The top 1% of earners saw their income grow nearly three times: 275% to be exact. The middle class, meanwhile (defined as the 21st through 80th percentile) saw their wages grow slightly less than 40%.
"The major reason for the growing unevenness in the distribution of after-tax income," the report explains, "was an increase in the concentration of market income…in favor of higher-income households."
The report explains over the past three decades, the business income and capital gains represent a larger slice of the earnings pie; labor income and capital income's share of the pie decreased. Compensated with a paycheck and not bonuses based on capital gains? Tough luck for you.
In all, every quintile except for the highest saw their share of the nation's income decline from where it was in 1979, most by about two or three percentage points. Meanwhile, the top quintile's share of income grew by 10%. And believe it or not, the top quintile's growth was almost all focused in the hands of that wealthy 1%.
While the CBO takes no stance on the issue — they are non-partisan by definition — their analysis confirms exactly what Occupy Wall Street protesters have been pointing out: the top 1% of earners take home way too much wealth, and that comes at the expense of all other earners. The report demonstrates this fact quite clearly, in an entirely objective fashion.
Will the CBO's nonpartisan bona fides make these facts about the top 1% a more mainstream source of outrage? It's quite different to hear news about income inequality from a qualified team of bureaucrats than from a crust punk with a sign on the street. We'll have to wait and see if this report draws the mainstream attention it deserves. It couldn't have come at a better time.
Ask a Question